Thanksgiving Gratitude in NH on Clean Water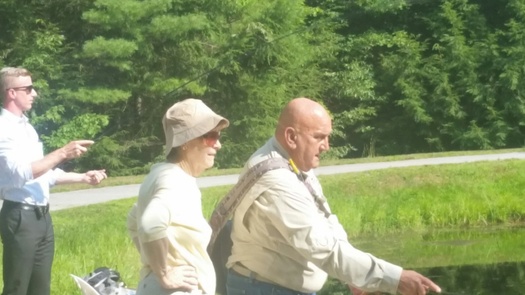 New Hampshire fishing guide Ron Sowa gives some fishing tips to Sen. Jeanne Shaheen, D-N.H. Today he is among those crediting the lawmaker for her vote this month that blocked Senate Bill 1104, which would have blocked protection of small rivers and streams. Courtesy: E. Orff.
November 25, 2015
CONCORD, N.H. - Plenty of Granite Staters make a living in the wildlife recreation industry, and some say a vote earlier this month on the Clean Water Act is worthy of Thanksgiving gratitude.

Ron Sowa, a licensed New Hampshire fishing guide, said his business depends on clean water. A 2011 study from the U.S. Fish and Wildlife Service found that outdoor recreation is a booming business, he said, generating more than $500 million in economic impact for New Hampshire, "including $209 million just on the fishing and freshwater fishing.

"It's very important to New Hampshire," Sowa said, "small businesses and large businesses, actually."

Opponents of the act say they are fighting to prevent regulations from applying to every stream and ditch. Sowa credited U.S. Sen. Jeanne Shaheen, D-N.H., for her vote to block Senate Bill 1140, which would have forced the Obama administration to withdraw new federal rules to protect smaller streams.

Eric Orff, a state wildlife scientist for the National Wildlife Federation, said the fight is far from over, since Republicans were just a few votes short of passing the measure and overcoming the Senate filibuster rule. He said this is an important time for those who care about clean water to stand up and be counted.

"This brings protection for the smaller streams, the ones that really are important for our native Eastern brook trout," Orff said. "So, coming up on Thanksgiving, it's certainly worth a thank you to our senator, Sen. Shaheen, for helping to restore the Clean Water Act."

Orff said you don't have to fish to be grateful, because 38 percent of people in the Granite State get their drinking water from sources that are fed by small rivers and streams.

Details of SB 1140 are online at congress.gov.