CA Wildlife Advocates Criticize Gray Wolf Conservation Plan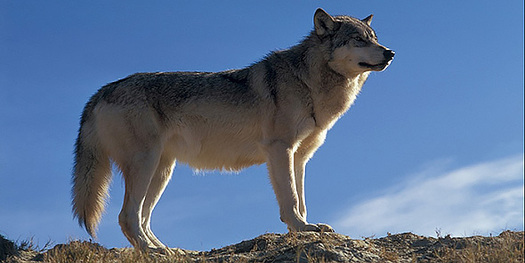 Wildlife advocacy groups give California's new draft Gray Wolf Conservation Plan mixed reviews.
December 4, 2015
Wildlife advocates are criticizing aspects of California's new gray wolf conservation plan, saying it envisions taking them off the endangered-species list much too early.

The first gray wolf pack in decades crossed into California from Oregon earlier this year.

Amaroq Weiss, West Coast wolf organizer for the Center for Biological Diversity, said she likes the plan's focus on nonlethal methods of reducing conflict, but worries about the move to strip protections once the population grows to nine wolf packs.

"The state under this plan would consider delisting wolves when there's only around 50 to 75 wolves in the state," she said. "That's an incredibly low population of animals to consider delisting. We wouldn't do that for any other species."

The draft plan shows that the Golden State has 23,000 square miles of suitable wolf habitat, mostly in rural Northern California. Weiss said the wolves need to number in the thousands in order to support about 500 breeding animals and sustain a healthy population.

"Californians want to have wolves back in California in robust enough numbers that they can continue to exist here into the future," she said.

In other western states, livestock producers have objected to larger numbers of wolves.

The California Department of Fish and Game will hold three public hearings in January and February, in Yreka, Sacramento and Long Beach. The public comment period on the plan is open through Feb. 15.

The draft plan and meeting information are online at cdfgnews.wordpress.com.