Environmentalists Urge Rejection of PA Fiscal Code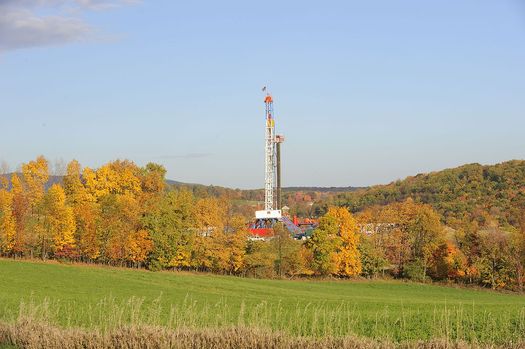 Environmentalists say HB1327 would prohibit modernization of gas drilling regulations. (Meredithw/Wikipedia)
December 11, 2015
HARRISBURG, Pa. - Environmental groups are urging rejection of a bill passed by the state Senate Thursday. The Fiscal Code is an annual bill authorizing state spending, but House Bill 1327 also contains provisions that would delay meeting goals for reducing carbon emissions, halt modernization of gas drilling rules, and shift money from investment in solar energy to natural gas infrastructure.

PennFuture President Larry Schweiger suggests most legislators were in a hurry to get to a big gala in New York City.

"And clearly, the gas industry will be there in full force, so they want to get this done and they want to give goodies to their friends, so that they can be eligible for support," says Schweiger. "It's as blunt and painful as that."

The bill passed the Senate on a vote of 48 to two, and has gone back to the House for final approval.

The state budget is now more than five months overdue and the Fiscal Code needs to be passed for any state spending on such vital services as education to resume. Schweiger says final passage of HB 1327 would put the decision in the hands of Gov. Wolf.

"This code is the guidance that he needs to have in place in order to be able to spend money," Schweiger says. "So, it really puts the governor in an extraordinarily difficult place but we're urging the governor to veto this, nonetheless."

A veto would further delay final resolution of the budget impasse.

Schweiger adds the General Assembly already ruled out imposing a severance tax on the gas industry to raise needed revenue and narrow a looming budget gap.

"This bill and the legislation that passes to move the budget forward puts the burden on taxpayers and leaves the gas industry completely scot-free of any tax liability," he says. "And I think that's unfair, and it needs to be called out."

He says there is also concern that adding unrelated provisions about environmental issues to the Fiscal Code may violate the state constitution.