Schools Celebrating Reading on Seuss Birthday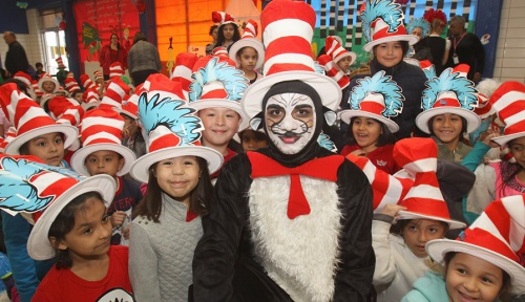 In celebration of the birthday of children's author Dr. Seuss, schools encourage children to read, often with events tied to characters in his legendary books. (National Education Association)
March 2, 2016
CEDAR FALLS, Iowa -- Since 1998, the National Education Association has celebrated March 2 as Read Across America day. The date was chosen to honor Theodor Seuss Geisel, the author known as Dr. Seuss, who was born on this date in 1904.

Stephanie Itzen, a teacher librarian at Holmes Junior High School in Cedar Falls, said maintaining good reading habits is especially important for students in this digital age.

"My sense is that they need that break from the digital device so that they can escape in a world of reading that's make-believe, without having to use some sort of electronic device to get there," she said.

According to the NEA, research shows that children who spend more time reading, regardless of the platform, do better in school.

Many presume that schoolchildren prefer electronic devices, since they become familiar with them at a young age. But Itzen said the students she deals with choose printed books over e-books.

"They miss holding a book in their hand, they miss having that time set aside where they can just lose themselves in a book," she said. "It's different reading from a printed book than it is on a digital device. Our students prefer reading a printed book. I'm pretty encouraged by how much students are still reading."

In many schools, community leaders and government officials read to children as part of the experience.

The Read Across America project involves support from more than 50 national nonprofit and association partners, working toward a common goal.

"It's just a way for everyone to take some time and read together so that we can promote how important reading actually is," she said. "I'm not sure we take enough time out of our day in every single subject area, to work on reading."

Schools across the country are holding Read Across America events at various times throughout the week. More information is available at readacrossamerica.org.