Wisconsinites Converge on Milwaukee for "Fight for Air Climb"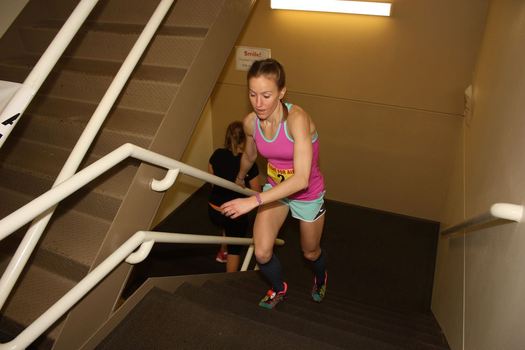 Michelle Spehr makes her way up all 1,034 steps in last year's American Lung Association Fight For Air Climb, to raise money for research. This year's event is March 19. (ALA Wisconsin)
March 7, 2016
MILWAUKEE – The American Lung Association's 8th annual Fight for Air Climb takes place Saturday, March 19, inside the tallest building in the state – the U.S. Bank building, downtown Milwaukee.

Every year, the event attracts a diverse group from across the state – from regular folks who just want to see if they can make the 47-story climb to professional firefighters in top physical condition.

Linda Witucki, ALA executive director in Wisconsin, has made the climb – all 1,034 steps – so she knows what's it like?

"Breathtaking!" she says, laughing. "It's what you make it. We tell people to take it one step at a time. If you can walk a mile, you could do the climb."

Money raised through pledges for the climbers goes to research and programs to help people with lung disease.

Lung cancer remains the number one cause of cancer deaths, more than the next three causes combined.

To participate in the climb, join a team or help as a contributor, look online at fightforairclimb.org.

The American Lung Association is working toward a five-year goal of investing $10 million in groundbreaking lung cancer research.

The Fight For Air Climb helps provide funds to meet those goals, and Witucki says it's a unique experience.

"When you get up to the top, you kind of feel like what it feels like to have lung disease," she explains. "You're breathing hard. It's hard to catch your breath. But for you, you can suck on a lozenge or have a bottle of water and it's over in 10 or 15 minutes. But for somebody with lung disease, they feel like that every day, all day."

Wisconsin's Fight For Air Climb results surpass those of much larger cities – Boston, Denver, Los Angeles and nearly 60 others.

Witucki has some theories on why Wisconsin's event is tops in the nation and attracts participants from every part of the state.

"I think it's Wisconsinites," she states. "They're caring, they're compassionate, and I think a lot of people know people with lung disease.

"But I also think it's a challenge. I also think it gives them the opportunity to push themselves a little, and I think people like challenges."


Tim Morrissey, Public News Service - WI