Bill Introduced in CA Senate to Protect Bees from Toxic Pesticides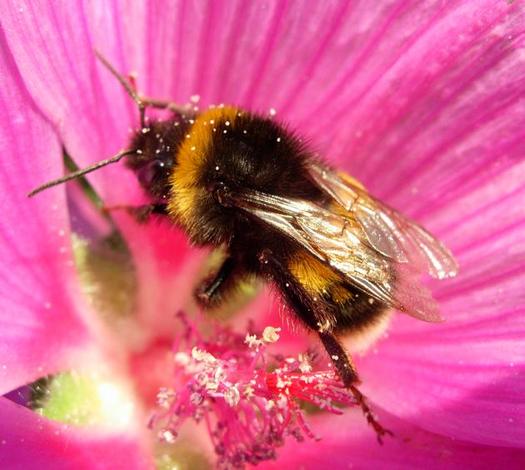 The California state Senate will consider a bill regulating certain pesticides that are linked to widespread bee deaths. (Pesticide Action Network of North America)
March 10, 2016
SACRAMENTO, Calif. - A new bill aims to slow the collapse of bee colonies by making certain pesticides available only to trained professionals and by requiring seeds and plants sold in nurseries to carry labels if they are treated with the toxic chemicals.

Senate Bill 12-82, the Pollinator Protection Act that was introduced recently in the state Senate, would regulate pesticides in a class called neonicotinoids.

Paul Towers, co-coordinator of the advocacy group Bee Smart California, said everyone has an interest in protecting bees.

"Bees are responsible for one in three bites of food that we eat, and they are in precipitous decline," he said. "In fact, the last year on record, over 40 percent of California honeybees died."

In January, the Environmental Protection Agency put out a risk assessment of one of the pesticides, called Imidacloprid, that said it is harmful to bees and may need to be regulated. Bayer, the company that makes these pesticides, including a rose and shrub spray commonly sold in garden stores, said neonicotinoids are critical to protect agriculture from pests and are much safer than pesticides used in the past.

Towers said surveys show that up to half of the bee-friendly plants purchased at garden centers have levels of pesticides high enough to injure or kill bees.

"We need to give consumers the right information about the plants that they're purchasing," he said, "so they don't mistakenly purchase something bee-friendly and in fact do more harm than good."

There have been similar efforts on a federal level. Last year, Rep. John Conyers, D-Mich., introduced the Saving America's Pollinators Act of 2015, but the bill has stalled in the House Committee on Agriculture.

Details of SB 1282 are online at leginfo.legislature.ca.gov. The statement from Bayer is at cropscience.bayer.us.