Advocates Rally Today for Higher State Minimum Wage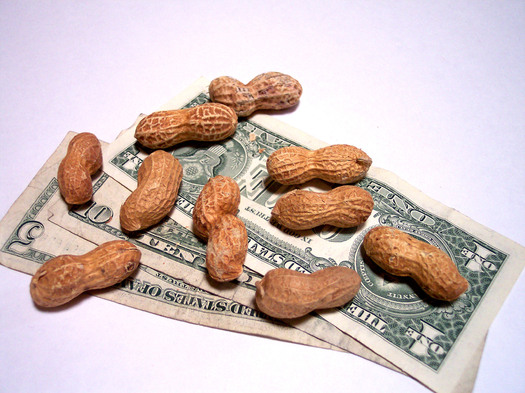 Low-wage workers are rallying today in Boise, supporting a bill to raise the state minimum wage.(cohdra/morguefile)
March 16, 2016
BOISE, Idaho - Low-wage workers are protesting today at the state Capitol, filling the third-floor rotunda to greet House members as they enter the chambers and asking for a hearing on a bill to raise the state minimum wage.

House Bill 400 is stuck in the House Ways and Means Committee, where the leadership has shown no intention of bringing it forward. Adrienne Evans, executive director of the advocacy group United Action for Idaho, said the situation is especially galling since the Legislature approved House Bill 463 a few weeks ago to prevent any municipality from requiring businesses to pay a wage higher than the state minimum. That bill is now on Gov. Butch Otter's desk.

"Now that they've stripped municipalities' ability to come up with their own solution," she said, "what we want to do is send a very clear message that, OK, then, give us some at the state level."

The state now uses the federal minimum wage of $7.25 an hour. This bill would raise it to $8.25 now and then $9.25 next year, and tie it to the consumer price index after that.

Opponents have argued that businesses already are paying the highest wages they can afford and will cut jobs if the minimum wage is raised. However, Evans argued that businesses are paying the lowest wages they can get away with.

"I don't know when we decided that the right of business trumps the rights of individuals, that it was fair and just for a business to be making profit employing people at poverty wages," she said. "We've had that in this country, and it was called slavery."

Evans organized a similar protest on Monday. Her group hopes for some action on HB 400 before the legislative session ends, which is slated to happen late this week or early next week.

The text of HB 400 is online here, and the text of HB 463 is here.