Report: For Healthier Lands, IL Needs More Prescribed Fires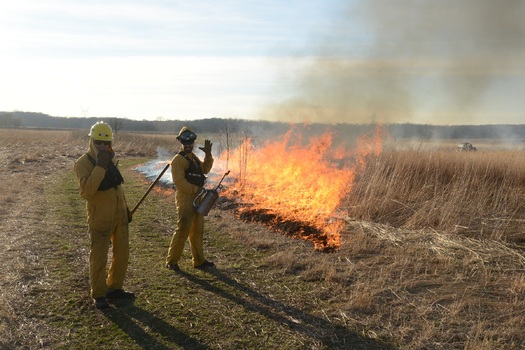 The Illinois Prescribed Fire Council says landowners should be burning at least 213,000 more acres each year to protect wildlife habitats from invasive plants. (Ferran Salat Coll/The Nature Conservancy)
March 28, 2016
SPRINGFIELD, Ill. - Conservation groups say Illinois could be using controlled fires more often and more effectively to help protect wildlife habitat and clean up areas that need it.

Groups such as the Nature Conservancy cite a new report that shows the state should be burning at least 213,000 acres of land a year, to help protect more than a million acres of natural areas. But controlled burns are now only being used on six percent of that land.

John McCabe, resource management director for the Forest Preserve of Cook County, says prescribed fires help remove the underbrush that causes more severe wildfires, and destroy invasive plants.

"So, it allows these areas to stay in the best ecological health, which then will support the habitat for some of these rare and endangered species that are only found in some of these particular places on our properties," says McCabe.

The report is one of the first to put into context Illinois' need for more controlled fires. It shows that about 20 percent of conservation lands are too far gone in terms of weeds and underbrush to support even a supervised burn. McCabe says if the state does nothing, more protected lands will degrade.

He describes controlled fire as the most important land management tool available, but McCabe acknowledges public perception of the practice is often unfavorable.

He says that could be because of the media coverage of deadly wildfires in the western states.

"They see these huge flames and then, the next morning we're knocking on their door, letting them know we're going to be doing a prescribed burn behind their house," says McCabe. "And so, if they hadn't been exposed to what burning means in our area and why it's important, all they're thinking about is that 'out west' situation."

McCabe and the Nature Conservancy say the state should consider expanding existing fire programs, training more staff and volunteers to keep pace with suggestions from the Illinois Prescribed Fire Council.