Opposition to Pipeline Project Popular Earth Day Theme in KY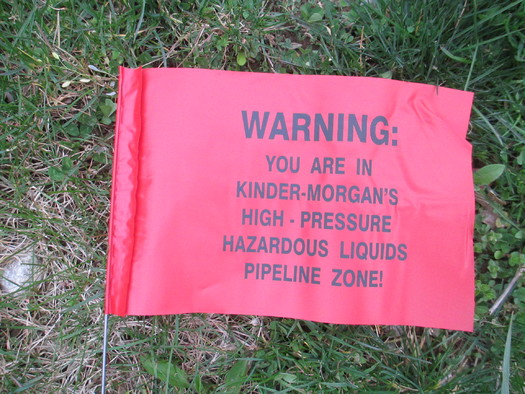 Red flags signal opposition to a proposed natural gas liquids pipeline project in Kentucky. (KFTC)
April 21, 2016
MARION COUNTY, Ky. – Kentuckians opposed to re-purposing a pipeline to transport natural gas liquids are using Earth Day this week as a launching pad to increase awareness.

The energy company Kinder Morgan proposes moving byproducts of gas drilling – such as propane, butane and ethane – from northeast Ohio to the Gulf Coast.

The nearly 1,200 mile route slices through 18 Kentucky counties, where concerned citizens have organized events around Earth Day on Friday, including informational walks along the pipeline path and marking the route with red warning flags – something Barbara Warner has done in Marion County. She lives down the road from the pipeline and fears the worst.

"My main concern is they're just going to blow up and kill everybody," she states.

The Utica Marcellus Texas Pipeline Project would use mostly existing pipeline in which natural gas currently flows. Kinder Morgan says pipelines are the safest way to transport liquids.

Opponents cite studies that show the liquids are much more explosive than natural gas.

And Warner has her doubts about the company's plans to use a pipeline that was built about 70 years ago.

"It will contaminate everything if it leaks," she points out. "We won't have water fit to drink."

Kinder Morgan says it would convert 964 miles of existing pipe and build about 200 new miles to get the liquids to processing plants near the Gulf of Mexico.

The pipeline cuts diagonally through Kentucky from Greenup County in the northeast to Simpson County in the south – a path of more than 250 miles.

Kinder Morgan has asked the Federal Energy Regulatory Commission or FERC to approve abandonment of the pipeline, the first step toward converting it for other uses.

Erik Lewis, who lives and works near the pipeline in Rowan County, wants FERC to order a complete environmental assessment of the project.

"Looking into economic, social and environmental costs of the pipeline," he urges. "Clarifying the risks involved and how they can be mitigated to the extent possible."

Several county fiscal courts have gone on record against the project, and Lewis hopes the public backlash will plug plans to move natural gas liquids through Kentucky.

"It's a different phenomenon," he stresses. "It's more dangerous. It's much more untried technology. I think people are rightfully upset."