Two Oregon Businesses Honored for LGBT Workplace Inclusion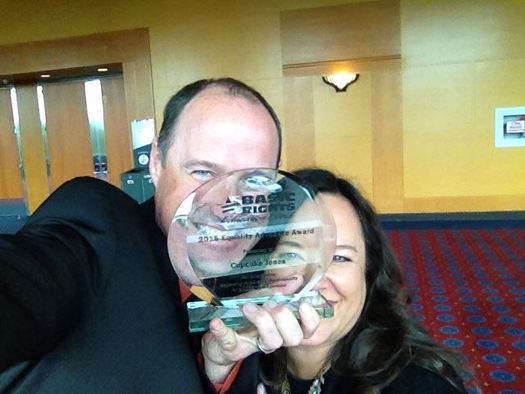 Basic Rights Oregon honors businesses that create inclusive environments for the LGBT community. (Bryon Beck)
April 21, 2016
PORTLAND, Ore. - Basic Rights Oregon is honoring two businesses today at the Oregon Convention Center for creating welcoming workplaces for transgender employees. One of those businesses is Symantec, a cyber-security company with an office in Springfield that fostered an inclusive environment when Cass Averill came out as transgender. Seven years ago, Averill told his manager he was transitioning and said he was surprised by the response.

"I experienced actually something I didn't expect at all from Symantec, which was total acceptance and support to move through my process as smoothly as possible," he said. "That is certainly not the norm for trans people in the workforce."

Although Oregon has anti-discrimination laws that protect trans people, Averill said the trans community still fears the repercussions of coming out at work. According to Basic Rights Oregon, more than 90 percent of transgender people report harassment or discrimination at work.

Basic Rights Oregon also is honoring New Seasons Market and Legacy Health physician Doctor Megan Bird at the organization's Oregonians Against Discrimination Business Leaders Luncheon.

Jeana Frazzini, co-executive director of Basic Rights Oregon said, "The business leaders' luncheon is one of the ways that we help to bring the business community along. They've long been leaders on these issues and it's a place where we lift up the businesses that are really setting the standard."

North Carolina and Mississippi both passed laws this year allowing businesses and organizations to deny services to members of the LGBT community based on religious grounds.

Averill said many LGBT people are worried about these laws, but he adds that it's important for the community to highlight stories of inclusion around the country.

"If we hear from the people who are doing good work, like Symantec, then it stands as an example that it can be done, and it gives people a template of how to do it as well, and I think that's really important,' he added.
Eric Tegethoff, Public News Service - OR