Ohio Libraries Showcase Energy Efficiency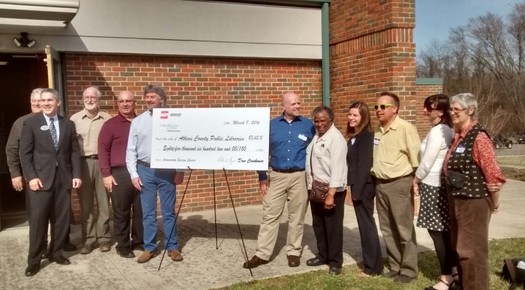 Athens County Public Libraries received $85,602 from the Community Energy Savers program for energy-efficiency upgrades. (Athens County Public Libraries)
April 22, 2016
COLUMBUS, Ohio - With the passing of each Earth Day, more Ohioans are learning to take steps to protect the environment, including reducing energy use.

And some Ohio libraries also are making energy conservation a priority.

An award from American Electric Power and Columbia Gas was a springboard for Athens County Public Libraries to install energy-saving measures.

Library Assistant Director James Hill explains the system was a natural choice for the project, because it belongs to all residents and has become a resource for energy-conservation awareness in the area.

"We were actually able to put the solar panels on the Athens Public Library through anonymous donations," says Hill. "And that sort of set us up as a facilitator for the area, of energy concerns and initiatives."

Mike LaScola, training and education coordinator, energy efficiency team with AEP, says while the utilities are involved with the project, the conservation work is a grassroots effort.

"It helps the community work together, rally around a project that will benefit the community," LaScola says. "And the educational aspect is great, because it goes beyond the 'here and now' - people understand how energy efficiency and sustainability can help them and their communities going forward."

And while there are upfront costs to saving energy, Hill adds in the long run, it's worth the investment.

"Even for an organization as big as the library, with seven buildings, it's hard to wrap our head around the idea of spending maybe $85,000 on this one project when we know the return's going to be two or three years," says Hill. "So, having that big picture goal is something we've really got to keep our head wrapped around."

The county received over $85,000 through the Community Energy Savers program, and Hill says more measures will be implemented to reduce each library building's energy footprint.

Some will get retrofitted lights and insulation, others may need heat-resistant window film or a new high-efficiency furnace.