Young Iowans with Disabilities, Employers Benefit from Summer Jobs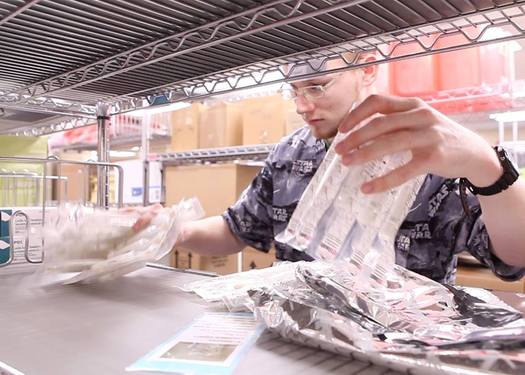 Devin Lile works in the lab at Iowa Methodist Medical Center in Des Moines. (Iowa Developmental Disabilities Council)
May 9, 2016
DES MOINES, Iowa – Iowa ranks third overall in the nation for helping people with disabilities get jobs and job training.

But for one age group, there's more to be done in that regard.

The latest national report from the Institute on Disability at the University of New Hampshire says Iowa is a standout for people with disabilities who want to work.

However, among young people who could gain valuable life experience from a first job or summer job, the numbers aren't quite as high.

"Fairly consistently, the employment rate for youth with disabilities is one-third to one-half less than the rate for youth with no disability," says Becky Harker, executive director of the Iowa Developmental Disabilities Council.

While overall, those numbers could improve, Harker says there are Iowa employers large and small that have been just the right match for young workers with disabilities, in a variety of industries.

"Walgreens, Hy-Vee, small businesses – like a business that makes cupcakes," she states. "Hospitals have hired people in pathology labs, to run test tubes from here to there."

Getting a good worker is only part of the benefit. Iowa employers that hire people with disabilities get a tax deduction equal to 65 percent of the wages those workers are paid in their first 12 months of employment.

Harker says, as with hiring anyone, it's really a matter of finding the right fit.

"Sometimes, we can find the perfect job for a person with a disability who may not be able to handle initially the whole job, but there's enough of a piece to it that it helps the organization run smoothly," she explains.

Harker notes that summer jobs also can help young people prepare for life after graduation.

"We know that all students, whether they have a disability or not, tend to be more successful as young adults if they've had paid work experience while they were in high school," she says.

Employers that want to know more can look online at idaction.org.