Tar Heel State A-Flutter About Butterfly Highway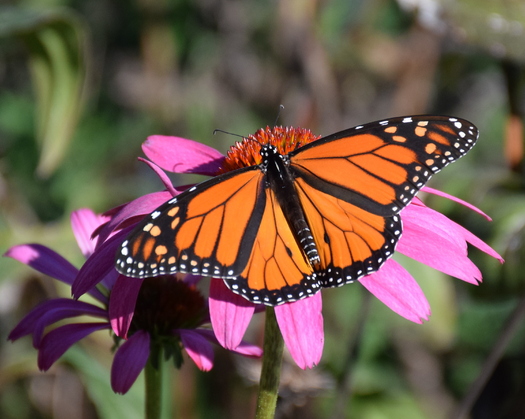 North Carolina's butterflies and other pollinators such as bees and hummingbirds are impacted by industrial and agricultural development. (Angelique Hjarding)
May 12, 2016
CHARLOTTE, N.C. – North Carolina's Butterfly Highway isn't going to shorten your nightly commute, but it will make it more scenic.

The project began a year ago in the Charlotte area as an effort to increase the network of pollinator habitats in the community, and make it easier for butterflies and other pollen reliant insects to flourish.

The North Carolina Wildlife Federation supports the project.

"Instead of it just being one person doing one thing, you can start to see the bigger picture of how all of us working together can actually create large-scale change for pollinators and butterflies," says Angelique Hjarding, director of the federation's pollinator and habitat programs.

The Butterfly Highway began with 70 sites in the pilot project. In the past two months, it has expanded statewide to 500 sites.

If you'd like to participate, there is no minimum size for a garden as long as it meets the criteria and provides food and habitat for native insects and wildlife.

Once a garden is registered, participants are eligible to purchase a Butterfly Highway sign for $25 to be displayed at their home, school, farm or business.

Pollinators are critical to the $78 billion agricultural economy of North Carolina.

Because more than 70 percent of crops either require insect pollination or have a higher production because of pollinator insect visits, Hjarding says the highway is vital to many insects.

"While the butterflies are important from a biodiversity perspective that we don't want to lose this component of our natural system, what we're really doing is we're creating pollinator habitat to support all of our pollinators from hummingbirds to honey bees to native bees to butterflies," she stresses.

North Carolina is home to approximately 170 species of butterflies, 1,200 types of moths and 500 kinds of native bees.

There are several species of butterfly, including the monarch, that are considered to be threatened or endangered due to loss of host plant habitat.