Gas Pipeline Regs "Favor Overbuilding" in VA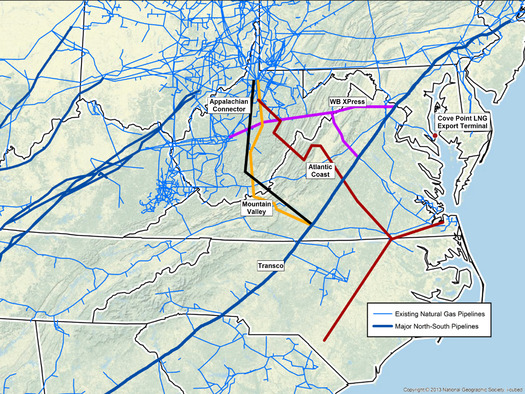 Critics charge the proof of need used to justify huge proposed pipelines to federal regulators is often contracts between branches of the same utility conglomerates. (Rick Webb/Dominion Pipeline Monitoring Coalition)
May 12, 2016
RICHMOND, Va. – Federal regulations may be favoring duplication and overbuilding of huge pipeline projects proposed to bring natural gas to Virginia and other eastern markets.

Between them, the Mountain Valley Pipeline (MVP) and Atlantic Coast Pipeline (ACP) ultimately could cost ratepayers $9 billion.

Critics charge they are unnecessary, and the gas could reach the markets through existing lines.

Cathy Kunkel, an energy analyst with the Institute for Energy Economics and Financial Analysis (IEEFA), says the problem is that federal regulators accept a contract for the gas as proof of need. She says two-thirds of the contracts for ACP are between branches of Dominion.

"There's been an increasing trend of self-dealing within the industry where the developers of a pipeline project are contracting with affiliated companies," she explains. "Both Atlantic Coast and Mountain Valley are examples of that kind of transaction."

Utilities have the power to pass the pipeline costs on to their consumers. The companies behind the pipelines and their allies in public office argue there will be genuine unmet needs in Virginia and North Carolina in the future.

Landowners and conservationists say the pipelines really are designed to lock in profitable positions for the competing builders, but at huge cost financially and environmentally.

Rick Webb, coordinator of the Dominion Pipeline Monitoring Coalition, points to Dominion's new Brunswick and Greensville natural gas plants. He says Dominion told state regulators the plants are to be served by the existing Transco pipeline.

"Dominion now proposes to build another pipeline, and because Dominion owns the power plant, they've been able to tell FERC (Federal Energy Regulatory Commission) that they have a contract for the gas," he points out. "And FERC accepts that as it's standard for need."

Dominion says the ACP would provide redundancy in some cases, but also would serve other markets with greater needs.

The company argues that Marcellus gas is hitting a bottleneck now.

Kunkle looked at that claim in a report for the Institute for Energy Economics and Financial Analysis. She says there is a bottleneck, but only to the west, notably with a major gas hub in Louisiana.

"Marcellus prices are at a substantial discount to Henry Hub prices," she points out. "So, I mean, it's definitely causing financial problems for the shale gas drillers in Appalachia."