Bee Losses Raise Stakes for Action on Pesticides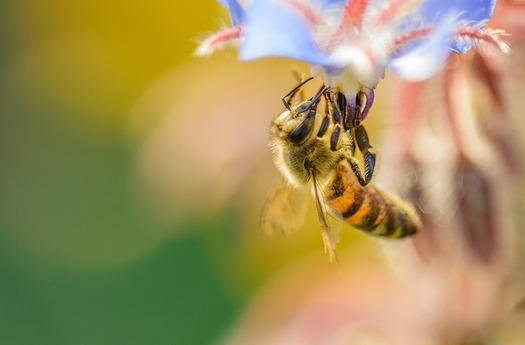 Honeybee populations in the United States dropped by 44 percent last year. (DrScythe/Pixabay)
May 16, 2016
CHEYENNE, Wy. - Honeybee populations in the U.S. dropped by 44 percent last year according to a new national survey.

Tiffany Finck-Haynes, food futures campaigner, with Friends of the Earth says bees are essential to agriculture, responsible for more than $20 billion of the U.S. economy and contribute $217 billion globally.

Finck-Haynes is not convinced that varroa mites, cited in the report as one contributing factor, are to blame because beekeepers have been effectively managing mites for decades.

"What's new and used pervasively in agriculture and in our own backyards is pesticides," says Finck-Haynes. "These pesticides are problematic because they'll kill bees outright. They also weaken their immune system."

Scientists with Bayer, a leading pesticide producer, say bee losses can be mitigated if mites are managed better and suggests colonies can simply be replaced.

Finck-Haynes argues losing more than 40 percent of all bees every year is unsustainable.

She points to meta-analysis of more than 1,200 peer-reviewed studies connecting bee declines to exposure to neonicotinoid pesticides used heavily on plants that bees pollinate.

Finck-Haynes says just two years after Italy banned neonicotinoids, bee populations nearly doubled. She adds the controversial pesticide is prohibited in Europe but continues to be widely used in the U.S.

"What we need from EPA is for them to adopt a federal unified plan and to place very strong restrictions on these pesticides," she says. "And really pull them from the market because we know that's the best way that they can protect the bees."

Last year the EPA passed a moratorium on new uses of neonicotinoids and in January the agency released a preliminary report which confirmed the risk to bees.

Finck-Haynes says the longer we wait to act, the worse the situation becomes for farmers, beekeepers and the ecosystems that support the nation's food supply.