McAuliffe Restoring Voting Rights for Felons Praised by Rights Groups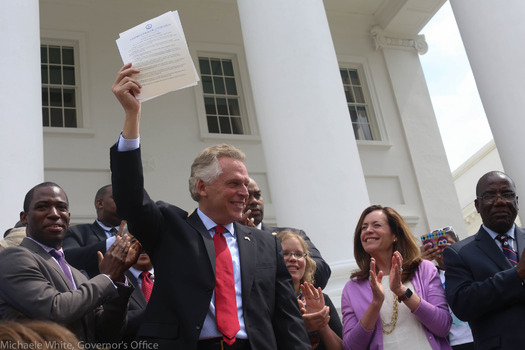 Voting rights activists approve of Gov. Terry McAuliffe restoring voting rights for felons. (Flicker/Governor Terry McAuliffe)
May 16, 2016
RICHMOND, Va. – Gov. Terry McAuliffe's restoration of the vote for felons in Virginia goes in the opposite direction of an ugly national trend, according to voting rights activists.

Judith Browne Dianis, co-director of the multi-racial civil rights group Advancement Project, says numerous states have taken steps to restrict ballot access over the last five years.

And she says many of those restrictions hit minorities, and are just kicking in now.

Dianis says Virginia's tough rule against felons voting is part of a discriminatory history, and she praises McAuliffe's action.

"We saw the political voice of black communities in Virginia being silenced, so this move is huge," Dianis states. "Now the task is to register those people."

Critics charge McAuliffe acted to help his friend and political ally Hillary Clinton, the Democratic Party presidential candidate. Many of the felons are African Americans and likely to vote Democratic.

McAuliffe's executive order doesn't change state law, and could be reversed by a future governor.

Anyone with a problem voting can call 866-our-vote, or go to nonprofitvote.org.

McAuliffe issued the executive order last month, at the urging of voting rights groups. It restored the vote for 200,000 felons who have finished their sentences.

Virginia was one of only three states where anyone with a felony conviction is blocked from voting for life.

But according to Dale Ho, director of the American Civil Liberties Union's Voting Rights Project, 5.8 million Americans had lost the vote that way. He notes that's equal to a sizable state.

"That state would be the 20th largest state in the country, just a bit larger than the state of Wisconsin," he points out.

Ho says along with voter ID laws, restrictions on absentee ballots and the number and hours of polling sites, rules against felons voting can crimp the workings of democracy.

And he says many people convicted of a crime assume they have been cut out of the process for good, even if they haven't.

"A lot of people who are actually eligible to vote think they are not," he points out. "So it's critically important that people understand what the rules are in their individual states."