MA Women Patients Shine Light on Doctor-Patient Confidentiality Issue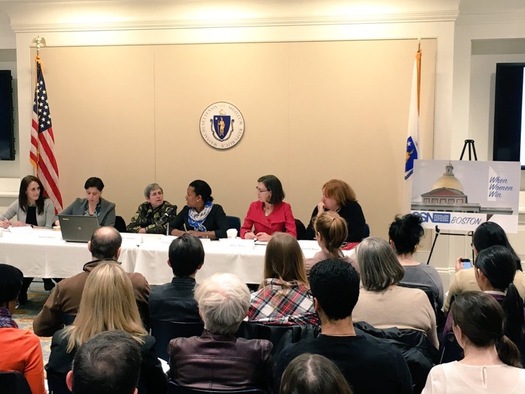 Women lawmakers are taking the lead on a bill pending at the State House that would ensure doctor-patient confidentiality when it comes to insurance companies' explanation of benefits. (Scholars Strategy Network)
May 23, 2016
BOSTON - A legislative effort led by women involves doctor-patient confidentiality.

Shauna Shames, an assistant professor of political science at Rutgers University-Camden, says it's no surprise women lawmakers are in the lead in sponsoring the Explanation-of-Benefits (EOB) bill that would prevent insurance providers from sharing confidential information with anyone other than the patient.

"And the research is very clear that when women are in office, they make policy that is generally better for other women," says Shames. "I tend to think it's also policy that's better for families, for men as well."

Senate Ways and Means Chair Karen Spilka is lead sponsor of the bill. It passed the Senate in February, but needs action in the House of Representatives before the session ends on July 31.

The insurance industry initially opposed the bill but has been working with supporters to propose ways they think the measure can work.

Former state Representative Martha Walz, former CEO of Planned Parenthood of Massachusetts, says women legislators are more likely to respond, since it was women patients in the Commonwealth who brought the problem to light.

"The issue first arose because women who are victims of domestic violence were not using the health insurance that they had," she says. "Because the explanation-of-benefits form was going to their husband or their partner."

Walz says women had similar concerns when it came to seeking reproductive health care. She says some male lawmakers are attentive to these issues, but she argues the state would be better served by a Legislature that more accurately reflects the population.

"The Legislature as a whole is 25 percent women," says Walz. "The good news is we've got strong women legislators, and we have men who care about women as well but, we have a long way to go before the Legislature fully reflects the gender split across the state."

Walz says if state lawmakers can get the measure to the House floor, she predicts it will pass by a wide margin.