Calif. PUC Approves New Natural Gas Plant for Oxnard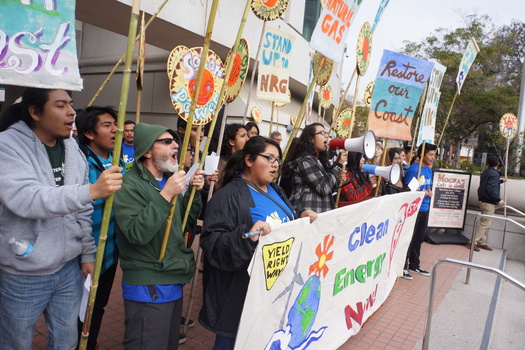 Clean-energy advocates protest against a power plant proposed for Oxnard at a meeting of the California Public Utilities Commission in December. (Rene Garcia/CAUSE)
May 26, 2016
SAN FRANCISCO - The California Public Utilities Commission (PUC) voted today to approve a permit for a new gas-fired power plant in the City of Oxnard, over the objections of the Oxnard City Council and local clean energy advocates.

The Puente Power Project, a 262-megawatt peaker plant backed by NRG Energy, would be the fourth power plant in this low-income coastal city about 50 miles north of Los Angeles.

Oxnard Mayor Pro-Tem Carmen Ramirez said the PUC should have put it off until a review can be done that takes environmental justice into account.

"We've done our part," she said. "And it's time for the Public Utilities Commission to get off fossil fuel, to treat minority communities such as ours fairly, to share the burden and not create these 'sacrifice zones' – which is our city."

Clean-energy advocates voiced their opposition at today's PUC meeting in San Francisco.

Despite the nod from the PUC, the project still needs the thumbs-up from the California Energy Commission, which isn't expected to rule until later this year.

Lucas Zucker, policy director of the Central Coast Alliance United for a Sustainable Economy (CAUSE), said Oxnard has been a dumping ground for polluting industries for decades.

"People in Oxnard already are dealing with negative environmental impacts from existing power plants, from a lot of industrial facilities, and from pesticides, and this is only going to contribute to that, another layer," he said.

Zucker also alleges the Puente plant would dump methane gas and a half-million tons of carbon dioxide into the atmosphere each year.