Environmental Groups Sue FPL Over Pollution at Turkey Point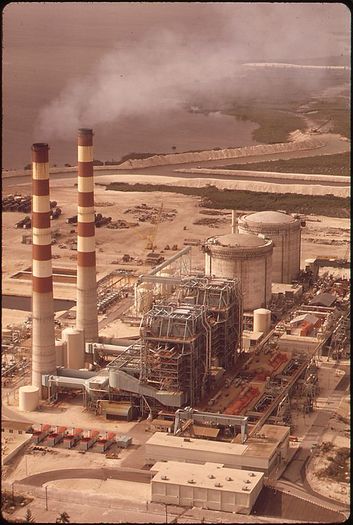 The Turkey Point power station is the subject of a federal Clean Water Act lawsuit. (Fred Ward/U.S. National Archives and Records Administration via Wikimedia Commons)
July 14, 2016
MIAMI – Environmental advocates are wading into legal waters in an effort to protect Biscayne Bay from what they say is ongoing pollution from a Florida utility.

The Turkey Point power plant outside Miami pumps millions of gallons of fresh water into canals each day to cool its two nuclear reactors, and researchers say the discharge is posing a threat to the entire ecosystem, as well as the more than 3 million Floridians who get their drinking water from the Biscayne Aquifer.

Stephen Smith, executive director of the Southern Alliance for Clean Energy, says years of promises from Florida Power and Light to get the situation under control simply aren't enough.

"We think that it does not solve the problem going forward, and we have real concerns about its ability to effectively remediate the problem that has been generated over the past 40 years," he states.

Smith's group, along with the Tropical Audubon Society and Friends of the Everglades, filed a federal lawsuit against the utility, alleging violations of the Clean Water Act.

For years, environmentalists, residents and National Park Service officials have raised concerns about the hot and increasingly salty canals and a saltwater plume that extends for miles from the facility.

Florida Power and Light has said in the past it was working to clean up the Turkey Point facility and earlier this year issued a statement announcing "progress on several fronts" in the utility's effort to improve the water quality in and around the cooling system.

But Smith maintains the entire premise of using canals is flawed.

"This elaborate, 10 square mile, open industrial sewer is the best way to describe it," he stresses. "It is unique. It is a grand experiment that has systematically failed."

Smith adds that many nuclear power plants use cooling towers where the heat of the water transfers to the ambient air by evaporation. The utility is currently seeking permission to build two additional nuclear reactors at the site.

A final environmental impact statement on the proposal is slated for released in October.




Mona Shand, Public News Service - FL