Iowa Heading Into Peak Blue-Green Algae Season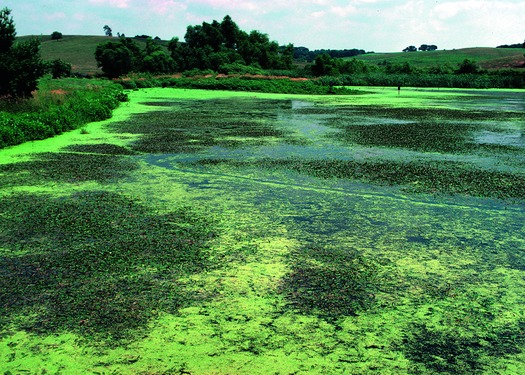 Harmful algae outbreaks in Iowa lakes, ponds, streams and rivers are more likely during this time of year. (Lynn Betts/ USDA Natural Resources Conservation Service)
July 18, 2016
DES MOINES, Iowa – Toxic blue-green algae outbreaks that are harmful to humans and pets aren't limited to Florida where a state of emergency has been declared.

It also can show up in Iowa's ponds, lakes, streams, rivers and other waterways.

While this year may not reach 2015's record number of closings, so far algae warnings have been issued for about a half-dozen state ark beaches.

"The latter part of the summer, when we don't have as much rainfall and when we tend to have higher temperatures, are when we see the greatest number of algae blooms," says Susan Heathcote, water program director for Iowa Environmental Council.

Heathcote says toxins in blue-green algae can cause rashes through skin contact, liver problems if swallowed, and respiratory problems if water droplets get into the lungs.

The algae looks like spilled green paint and can give off a nasty odor, which keeps most humans from swimming in or around it.

But Heathcote points out often, dogs don't know any better.

"They're not repelled necessarily by the odor and the appearance of the water and dogs will jump in and swim and they often will ingest the water," she explains. "And so there are a lot of cases of dogs being poisoned by the cyanotoxins."

Heathcote says the best thing to do if dogs have been in contact with blue-green algae is to rinse them off with clean, fresh water.

The blooms are mostly caused by phosphorous from agricultural runoff and wastewater treatment around certain cities.

Heathcote says while there are programs in place to reduce those compounds in runoff, the blooms can still happen.

"We have a nutrient reduction strategy in Iowa and we're trying to target practices in both our urban and agricultural areas to try to hold that phosphorus, keep it on the land and prevent it from running off with rainfall," she states.

To report possible cases of algae bloom, call the Iowa Department of Public Health at 800-972-2026.