A View from Solitary During the DNC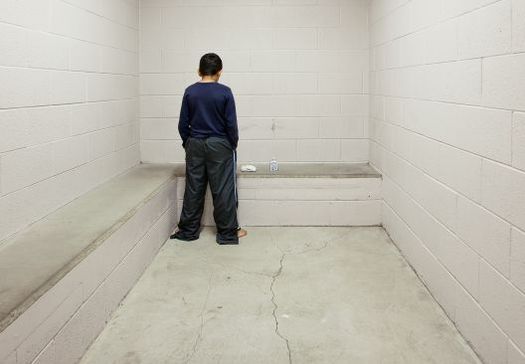 The use of solitary confinement on youth can cause trauma, mental distress, and increase risk of suicide and self-harm. (@RichardRoss, juvenile-in-justice.com)
July 21, 2016
PHILADELPHIA – A time out, protective custody and segregation are all terms used to describe solitary confinement – a practice experienced by hundreds of youth in juvenile detention facilities in the U.S.

And solitary confinement is coming into the spotlight as the Democratic National Convention comes to Philadelphia.

Marsha Levick, deputy director and chief counsel for the Juvenile Law Center, says a multi-site exhibition of photos, audio recordings of detained youth and a replica of a solitary cell will show convention goers what solitary confinement really looks like.

"They're often placed in very small cells, 7-by-7 feet, 7-by-10 feet," she points out. "There's often limited light, nothing in the cell except a cement slab, perhaps a thin mattress.

"Often they're denied access to personal belongings, books, educational materials."

The main exhibit at the Free Library of Philadelphia opens today, with a panel discussion on banning solitary confinement with panelists including Levick, who is a nationally recognized expert in juvenile law, and photographer Richard Ross, who shot the photos.

Experts contend the use of solitary confinement can have life-long impacts on juveniles and cause trauma, mental distress, and increase risk of suicide and self-harm.

Levick stresses that when people get an inside look at solitary confinement, they'll see that it really is government-sponsored child abuse.

"If we knew someone living next door to us who had locked their child in a closet under those circumstances, we all know that we would call 911 and that kind of conduct toward a child would be considered child abuse," she states.

In January, President Barack Obama signed an executive order prohibiting the use of solitary confinement for juveniles in federal facilities, a measure Levick says was incredibly important.

She says the national conversation now needs to focus on ending solitary confinement of juveniles in state and local facilities.

"These issues are important to all of us, particularly now as there is a swirling concern about an array of policing, law enforcement and justice issues," she stresses. "This is another one that people need to be paying attention to."

Pennsylvania is among the 21 states that ban punitive solitary confinement of youth, but segregation can be used for administrative reasons including prisoner safety.