World's Longest, Largest, Oldest Bike Touring Event Remembers Lost Riders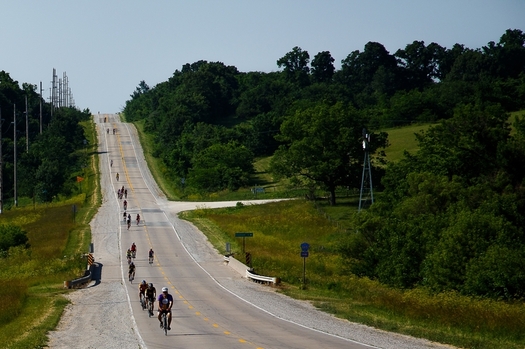 An estimated 20,000 cyclists start the week-long ride across Iowa this weekend, many riding in support of charitable causes. (RAGBRAI.com)
July 22, 2016
DES MOINES, Iowa - An estimated 20,000 bicyclists will ride all or some of the week-long annual ride across Iowa, which starts Sunday. The route of the Des Moines Register's Annual Great Bicycle Ride Across Iowa, or RAGBRAI, this year connects small towns that are often unseen and unappreciated.

T.J. Juskiewicz, director of RAGBRAI, said for the 44th annual ride, cyclists will be observing one of those miles in silence.

"We've lost eight cyclists in the state of Iowa this year, due to accidents on the bike," he said. "And, we're going to remember the cyclists and other ones that couldn't be on RAGBRAI this year due to fatalities suffered on the bicycle."

Juskiewicz said the silent portion of the ride on the first day is to promote safer cycling for both drivers and riders.

He said mainly the ride is about having fun while biking and camping. And, for many riders, helping causes important to them.

"They're riding for, you know, to stop juvenile diabetes or an answer to Parkinson's or just so many different causes," he said. "They're riding to raise funds for a different charity, maybe in support of their aunt that passed away from a different disease."

Juskiewicz said of the 20,000 riders participating, around 65 percent of them come from outside of Iowa, making RAGBRAI the state's largest tourist attraction for out-of-state visitors. For those who make it to the ending point in Muscatine, they take part in a tradition started at the first ride in 1973.

"The climactic moment of RAGBRAI is when the riders reach the Mississippi River," he added. "After riding their bicycle seven days across the great state of Iowa, when the Mississippi River opens up in front of them they dip their tire in the Mississippi River and that signifies their conclusion to RAGBRAI."

Each day the riders pedal between 50 and 75 miles for a 420-mile total.