New England Avocates Cheer "Toxic Tour" at DNC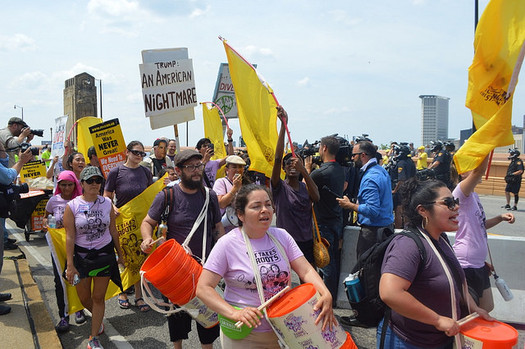 A self-described Toxic Tour is gaining support from the Bay State and beyond at the Democratic National Convention as activists call attention to the need for action on pollution and climate change. (Grassroots Global Justice Alliance)
July 28, 2016
BOSTON – A self-described Toxic Tour that traveled from the Republican National Convention to the Democratic National Convention in its quest to draw attention to the need for action on toxic pollution and climate change is getting support from New England and around the globe.

The tour, also known as It Takes Roots to Change the System, paid a visit this week to the largest refinery in the DNC's host city, Philadelphia.

Nay'Chelle Harris, an organizer with the Grassroots Global Justice Alliance, says the Democratic Party's commitment to combat climate change may be too little, too late.

"The action they think is bold isn't bold enough," she maintains. "The people in Pennsylvania have been saying, 'No fracking,' and yet natural gas is being considered a bridge-energy source.

"And you can't make a bridge from dirty to clean with more dirty. That's just going along the same path."

An international caravan this week joined the Toxic Tour, which includes advocates from Maine. The Democratic Party platform includes limiting the rise of global temperatures through conservation and ramping up clean energy sources.

Katelyn Parady is communications director for the Toxics Action Center, a group helping communities prevent pollution and clean up toxic waste in New England since 1987. She says it's welcome news that this initiative is shining a spotlight on the need for action.

"In Massachusetts, we have over 5,000 hazardous waste sites that are awaiting cleanup, along with hundreds of permitted polluters who have licenses to dump smog into our air and chemicals into our waters," she points out.

Toxic Tour supporters say one of their goals is to help shift the attention of elected officials and regulators away from the DNC to communities of color across the country that are being disproportionately affected by pollution.





Mike Clifford, Public News Service - MA