Arizona Demands Sierra Club Retract Condor Claims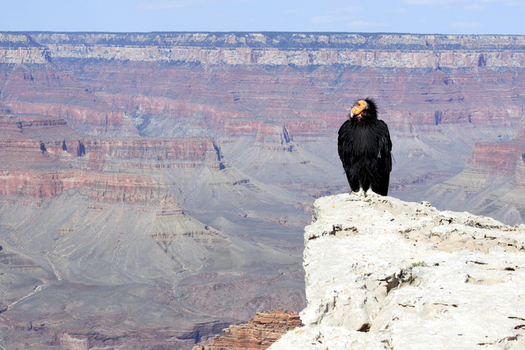 The Sierra Club is disputing the Arizona Game and Fish Departmentís claim that Grand Canyon uranium mining isnít harmful to the endangered California condor. (kojohirano/iStockphoto)
August 3, 2016
GRAND CANYON, Ariz. — The State of Arizona is demanding that the Sierra Club retract claims that California condors face danger from expanded uranium mining near the Grand Canyon.

In a fundraising letter to supporters, Sierra Club National Executive Director Michael Brune said that expanding the number of mines near the Grand Canyon would threaten the rare condor by disrupting its habitat and contaminating food sources.

Sandy Bahr, director of the Sierra Club's Grand Canyon Chapter, said there will be no retraction. She said it's disconcerting that Arizona's Game and Fish Department is denying its own science for what appears to be political reasons.

"It used to be that they were concerned about uranium mining and how that would affect wildlife," Bahr said. "Now, they seem to be promoting it. They're supporting things like the Resolution Copper Mine - none of these are going to be beneficial for wildlife."

Arizona wildlife officials claim there is no scientific basis for the Sierra Club's assertion that uranium poisoning is a threat to condors. But according to Bahr, the Arizona officials participated in the condor reintroduction program's five-year review, which specifically documented concerns about the birds' exposure to toxic uranium.

In another letter, Brune warned supporters that recent tax records showed that dark-money funds, controlled by billionaire activists Charles and David Koch, invested millions to open up the Grand Canyon to uranium mining. Bahr said the state agency's change of heart on the issue is no coincidence.

"They seem to have 'mission creep,'" she said. "Rather than being focused on wildlife conservation, they're like an arm of the Arizona Mining Association. They seem to be more concerned about their friends the Koch brothers than they are about wildlife."

A program to reintroduce the almost-extinct California condor to the Grand Canyon began in the late 1990s. Conservation and tribal groups are pushing for the Grand Canyon and surrounding land to be designated a national monument, which would preserve current uses, such as hunting, grazing and recreation, but would ban new uranium-mining permits.