Housing: The New Frontier for Health-Care Plans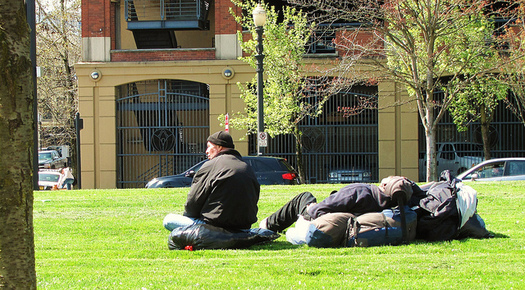 A study of Portland's homeless population says individuals who found stable housing saw their need for emergency care drop 18 percent. (Mike Krzeszak/Flickr)
August 31, 2016
PORTLAND, Ore. - Health-care plans in Oregon are considering a new aspect of people's health and well-being: stable housing.

Care providers are looking to tackle a big issue in Oregon, which ranks in the top five for rates of homelessness. The nonprofit CareOregon is supporting this new task by giving grants to organizations that provide affordable and stable housing.

One is Rogue Retreat in southern Oregon, which partners with coordinated-care provider Jackson Care Connect. Heidi Hill, community-engagement program manager for Jackson Care Connect, said her organization and Rogue Retreat are collaborating to build Hope Village, which puts housing first, even before sobriety.

"Housing is the very platform and the foundation for all health outcomes," she said. "They're much more likely to gain and maintain sobriety. They're much more likely to be able to manage their healthcare needs."

Hope Village is looking to become a 'tiny-house' community for the homeless population in Medford. A study of Portland's homeless population by the Center for Outcomes Research and Education found that when people moved into stable housing, Medicaid costs dropped 12 percent and emergency care dropped 18 percent.

Another CareOregon grant is going to Helping Hands, which serves people in northwest Oregon. Alan Evans, the organization's chief executive and executive director, said cost savings and better outcomes are possible when the connection is made between housing and health.

"Before, it used to be we would just keep a person secure, get a job, pay a little bit of rent, follow these rules," he said. "Now we're looking at a deeper, more community-oriented wellness program."

Helping Hands provides care to individuals and families in Clatsop, Lincoln, Tillamook and Yamhill counties.

Hill said the idea that housing and health care intersect is a fresh approach to an idea that may have been right under the noses of the health-care community for a long time.

"We all recognize now what happens to society, what happens to the individual, what happens to our costs, what happens to the health outcomes of the individual," she said. "It really should have been the first idea that we had."

The Portland study is online at amazonaws.com.
Eric Tegethoff, Public News Service - OR