Report: Payday Lending Creates 'Cycle of Debt'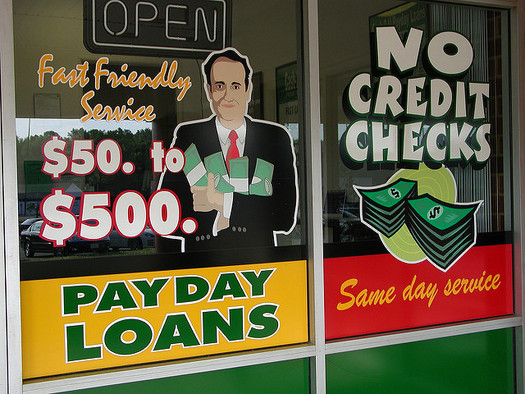 A new rule would require payday lenders to determine borrower's ability to pay back the loan and afford necessities such as food. (Taber Andrew Bain/Flickr)
September 2, 2016
BOISE, Idaho - Opponents of payday and car-title lending say they lead to financial abuse of consumers, and a new report supports new federal rules to combat the problem. In the report by the U.S. Public Interest Research Group, researchers analyzed close to 10,000 recent complaints made to the Consumer Financial Protection Bureau. They found that 91 percent involved aggressive debt-collection practices, bank-account closures, and/or long-term cycles of debt.

Mike Litt spokesman with U.S. PIRG said payday lending is structured to set consumers up to fail.

"The borrower is using their uncashed check as collateral, and they have a short amount of time to pay that off," he explained. "And there are a lot of people out there that can't afford that interest and so that sets them up to re-borrow and take out loan after loan after loan."

The report also found that around 15 companies accounted for more than half the complaints, many charging triple-digit interest rates. The report said some of the biggest offenders are doing business under the names CashNetUSA, NetCredit, Check 'n Go, and ACE Cash Express.

Consumer advocates say the federal government should adopt a rule that requires lenders to determine, in advance, a borrower's ability to pay the loan and afford necessities such as food. Litt said the average income of a payday-loan consumer is more than $27,000 annually.

"We're talking about people who are already working to make ends meet and then they get stuck in a debt trap," he said.

The public comment period on the new rule ends on October 7th. The complaint form is here.
Eric Tegethoff, Public News Service - ID