3-D Printers Making Surgeries Safer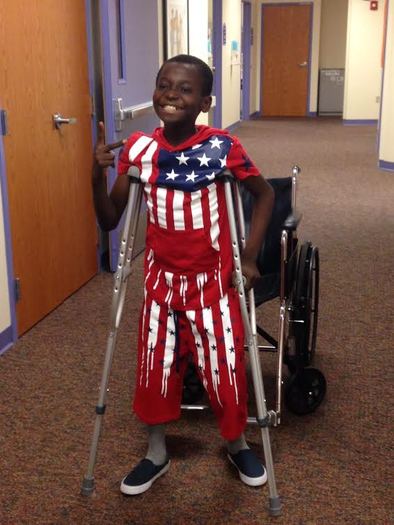 Kevin Yintia got a new hip plate made from new 3-D printing technology at Children's Mercy Hospital in Kansas City, Mo. (Children's Mercy)
September 6, 2016
KANSAS CITY, Mo. – Advances in technology are allowing doctors to spend less time in the operating room, and that's much safer for patients, especially younger ones.

At Children's Mercy in Kansas City, 3-D printers are being used to help surgeons.

Dr. Richard Schwend, chief of Orthopedic Research at Children's Mercy, recently operated on 10-year-old Kevin Yintia. His hip was severely damaged by infection when he was a baby in the Central African Republic.

Because of that, Kevin was much smaller than average, and that's when Dr. Neil Mardis, a radiologist, stepped up and created a 3-D image of Kevin's pelvis so doctors could see what needed to be done before operating.

Schwend says because of that, doctors could create a metal plate that fit Kevin perfectly.

"That metal plate had twists and bends and sharp curves to it, and it's very hard to bend that during surgery," he explains. "It takes quite a while. And by bending it ahead of time, we might have saved an hour of surgery time, which makes it for much safer for surgery and less risk for bleeding, and less risk for infection."

The printers can create bone, vessel or organ models. That allows surgeons to practice before surgery.

Mardis says because they're still growing, smaller patients don't always have the same size bones, so being able to design an exact model or a plate for a doctor is key.

"If they want to make a cut, they can practice the cut, they can practice some different techniques," he explains. "They might have three or four different options to them surgically, and to see which one's going to work best, so when in the operating room they're not just sitting around thinking about which technique they want to use while they're in the O.R. They've already got a plan, they already know exactly what they're going to do when they go in there."

Mardis says families benefit because costs are reduced.

"With kids, you know, they're growing so fast that they might outgrow their brace in three months," he points out. "And so sometimes it's just not feasible for a family to have braces remade every three months."

As for Kevin Yintia, he had his surgery, and says he's ready to start playing basketball.