Dakota Access Pipeline Court Decision Expected Today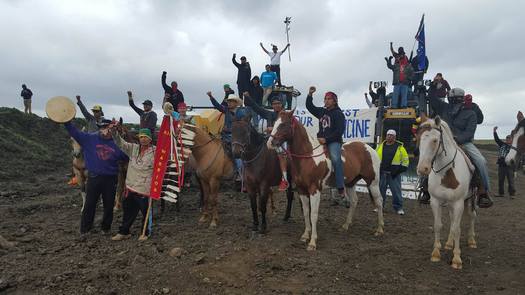 Native Americans have been protesting the Dakota Access Pipeline since April. (Red Warrior Camp)
September 9, 2016
BISMARCK, N.D. – The controversial Dakota Access Pipeline project could be permanently shut down today, pending a federal judge's decision. Members of the Standing Rock Sioux Tribe of North and South Dakota are suing the U.S. Army Corps of Engineers.

Tribal members say the agency issued improper permits for the project, and they're asking a judge to halt construction of the pipeline while the lawsuit moves forward. That decision's expected to come down later today.

Krystal Two Bulls, an organizer with the Red Warrior Camp, said members of her group have been protesting the pipeline for several reasons, including possible damage to the water supplies along the project's route from North Dakota to Illinois.

"Pipelines leak, it's just a matter of when and where and how much they're going to spill," she said. "It's not specific to native people, but this issue with the contaminated water impacts everybody along the Missouri River."

Dakota Access has defended the project, however, arguing that it will help the U.S. become less dependent on foreign oil. The protests around the project development site at Cannonball, North Dakota, became violent last weekend when private security contractors used dogs and pepper spray against protesters.

Two Bulls claims that by allowing construction in this area, the Army Corps is violating tribal treaties that are more than 100 years old.

"The construction companies have actually come in and specifically dug in certain areas where we identified sacred sites and burial grounds, and it was intentional," she added.

U.S. District Judge James Boasberg issued a temporary, partial hold on the project in certain protected lands earlier this week. He's expected today to rule on the tribe's challenge of federal regulators' decision to grant permits for the pipeline.

Two Bulls and other native protesters are hoping the judge sides in their favor. If not, she argued the government would be favoring the rights of corporations over people.

"And that's concerning because that's going to set precedents for every other pipeline battle in this country," she warned.