Conservation Groups to Celebrate "Get Outdoors Nevada Day" on Saturday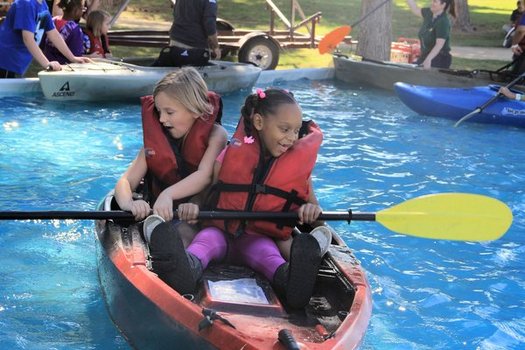 Kids learn to kayak at the "Get Outdoors Nevada" event in 2015. (Outside Las Vegas Foundation)
October 13, 2016
LAS VEGAS – Conservation groups are inviting families to celebrate their public lands on Saturday, October 15 - the fifth annual Get Outdoors Nevada Day.

Everyone is invited to the free event at Lorenzi Park in Las Vegas from 9 a.m. to 2 p.m. There will be live music, food, dozens of vendors, a rock-climbing wall, a casting event, archery, a kayak-rolling demo and a bike rodeo.

Alan O'Neil, retired superintendent at Lake Mead, said too many urbanites never set foot outside of the city, and they end up missing a lot.

"We have incredible public lands," O'Neil said. "We have 11 congressionally-designated areas surrounding our city. And the local parks and recreation areas are special, and we have a world-class trail system."

This year is the 100th anniversary of the founding of the National Park Service, and to celebrate they've extended the "Every Kid in a Park" program. That means any fourth-grader can come to Saturday's event and get a free pass to any national park or monument for the whole family, good for a whole year.

Jose Witt, the Southern Nevada director for Friends of Nevada Wilderness, said that successful events such as this one prove that the land-seizure movement is not mainstream.

"Yes, there is a small subset of people that are very vocal who believe that the state should own the land," Witt said. "But I think if you get out into the community and you ask people about access to their public lands, a great majority of the public would prefer that public lands remain in public hands."

The event will also honor the volunteers who help maintain access to the state's public lands. This past year, more than 16,500 volunteers contributed some 300,000 hours in support of public lands.