Bay State Among Best for Children's Health Coverage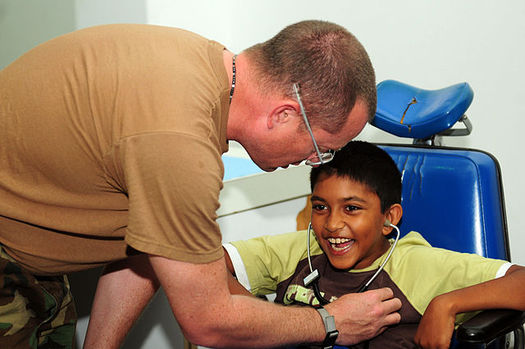 A new report credits Massachusetts for ranking second in the nation when it comes to providing coverage for uninsured kids. (US Navy).
October 27, 2016
BOSTON -- The Bay State is near the top in the nation for ensuring kids have the healthcare coverage they need to stay healthy.

A report released Thursday by the Georgetown University Center for Children and Families showed that between 2013 and 2015, the number of children without health insurance dropped from 21,000 to just 16,000 and the rate of uninsured children fell about a half of a percentage point.

Eva Stahl, director of the New England Alliance for Children's Health, said there are many benefits for increasing the number of children with access to health insurance.

"Massachusetts and Vermont really are leaders in the country around children's coverage," Stahl said. "And Massachusetts came out as number two, in terms of the small percentage of uninsured kids."

Nationally, the uninsured rate saw its sharpest two-year decline on record, as 95 percent of kids had health coverage in 2015. The Commonwealth earned the number two ranking in the nation with around 1 percent of children uninsured.

Joan Alker, the report's lead author and the executive director at the center, said the drop in the number of uninsured children was widespread across income, racial and geographic lines. And she attributed the progress to major provisions of the Affordable Care Act complementing other important programs and policies.

"We see success around the country," Alker said. "And I think this speaks to how, despite all of the fighting and very intense partisanship around the Affordable Care Act, we can feel good as a country that we've come together through Medicaid, CHIP and the Affordable Care Act and really reduced the number of uninsured children."

In order to continue the positive trend, Alker said that work must continue to strengthen Medicaid, CHIP and the Affordable Care Act.