NC AIDS Epidemic: End in Sight?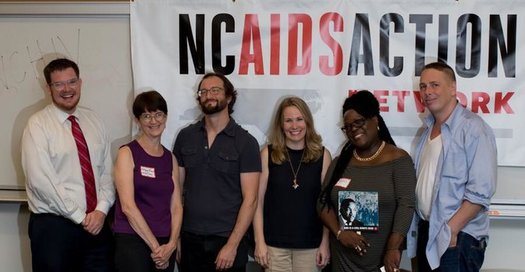 Employees of the North Carolina AIDS Action Network are pushing for the state to increase funding for diagnosis and treatment of sexually-transmitted diseases. (NCAAN)
December 9, 2016
RALEIGH, N.C. - More than 30 years since the first cases of AIDS were reported in North Carolina and the rest of the world, developments in medication and treatment are enabling HIV-positive people to live long and healthy lives.

December is HIV Awareness Month. While taking precautions from getting the virus always is the priority, Lee Storrow, executive director of the North Carolina AIDS Action Network, said a diagnosis is not a death sentence if properly treated.

"Between the medication that we have for folks living with HIV and then actually even newer medication," he said, "there is really no reason that we can't imagine a world that we've ended the epidemic in North Carolina within the near future."

Medications now are available that can suppress the virus and actually prevent someone from passing it on to someone else.

Mecklenburg, Edgecombe, Cumberland, Durham and Guilford counties have the highest rates of HIV prevalence in North Carolina. Almost 30,000 people statewide have the virus, with that number remaining stable in recent years.

While progress is being made in reducing the number of people with HIV, Storrow said, the persistence of other sexually-transmitted diseases remains an issue. A third of people living with HIV also are living with hepatitis.

"It is time that we as a community had a broader conversation about sexually transmitted infections," he said. "There's a cure for hepatitis; it's also incredible expensive. Our Legislature needs to prioritize increasing funding for communicable disease broadly."

Next year, the state government will start tracking hepatitis, and Storrow said his organization and others will be pushing for the state to make testing and treatment of STD's easier to obtain for individuals.

HIV rates for North Carolina are online at epi.publichealth.nc.gov.