More Houses of Worship Joining Sanctuary Movement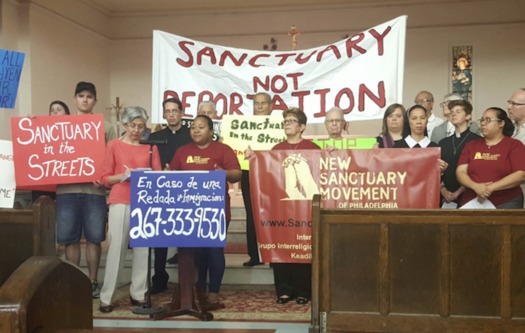 More than 1,000 people have volunteered for the "Sanctuary in the Streets" program. (Harvey Finkle)
December 29, 2016
PHILADELPHIA – The number of houses of worship offering sanctuary to undocumented immigrants has doubled in the weeks since the election.

During the presidential campaign, Donald Trump made his promise to deport undocumented immigrants a constant theme. But since his victory at the polls, the religious left has taken up the challenge to defend their communities against a massive increase in deportations.

Peter Pedemonti, executive director of the New Sanctuary Movement in Philadelphia, said there are now some 450 houses of worship around the country offering assistance to immigrants from all over the world.

"The faith community has a particular responsibility to step up with a moral voice, step up with bold action to call out where policies blatantly contradict our faith teachings," Pedemonti said.

Some conservatives claim undocumented immigrants bring crime and use taxpayer-funded resources. But studies indicate that they are less likely than U.S. citizens to commit crimes, and undocumented workers in fact pay billions of dollars into systems they cannot access because of their immigration status.

While there has been a large increase in deportations during the Obama administration, immigration officials have generally avoided conducting raids in sensitive locations such as churches, schools and hospitals. Pedemonti said he thinks that policy will hold.

"There is a history that goes back over 2,000 years about officials not entering into a place of worship," he said. "And so I think that tradition goes much deeper than any memo within ICE."

Some U.S. churches offered sanctuary to draft resisters during the Vietnam War, and later to refugees fleeing wars in Central America.

Not all churches are able to shelter undocumented immigrants. But Pedemonti said thousands of people are finding other ways to show their support for their neighbors threatened with deportation.

"We have people ready to respond to a house raid and show up to hold a service, to pray, to sing, to stand in solidarity with the family, and also nonviolently and prayerfully disrupt the raid," Pedemonti said.

Since the election, 1,000 people in Philadelphia have volunteered to participate in the "sanctuary in the streets" raid-response program, according to Pedemonti.