More MN Churches Prepare to Offer Sanctuary to Immigrants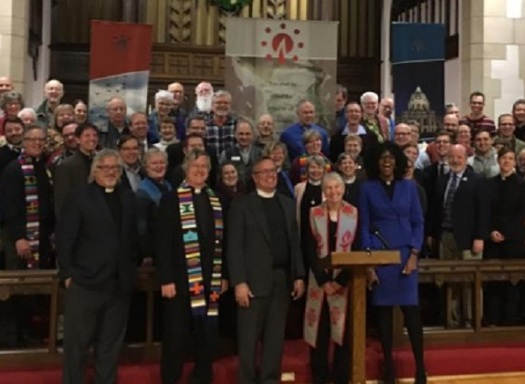 Growing numbers of churches in Minnesota have pledged to provide sanctuary for immigrants if the Trump administration steps up deportations. (isiahmn.org)
January 23, 2017
ST. PAUL, Minn. -- Churches across Minnesota are continuing to pledge their support for immigrants who may face deportation under the Trump administration.

Pastor Grant Stevensen said since the November election, churches have been signing on as sanctuaries for those seeking refuge in case of mass deportations by the Trump administration. Stevensen works with ISAIAH Minnesota, a faith-based coalition forming a network to offer refuge. He said it was encouraging that so many have agreed to help.

"When congregations are stepping up to say, 'We're going to offer sanctuary,' they don't know if that's for a week or a month or a year, because we don't actually know exactly what will be coming from the administration," Stevensen said.

During the campaign, Trump said he would deport all immigrants here illegally if he was elected. He has since scaled back on that rhetoric a little, saying the primary focus would be on those with criminal records.

Stevensen said deportations are nothing new - they happened under the Bush and Obama administrations - but this is the first time an incoming president has made it a centerpiece of his election campaign. He said the American economy was built around immigrant labor.

"The deception has really been on our side - on the American government's side - of people running for office saying, 'These people are somehow hurting us,' when in fact, these are the very people who are buoying up our economy," Stevensen said.

The political rhetoric has awakened clergy and members of the public to the very real fear that many immigrants are feeling now, he said. And the ISAIAH Minnesota coalition is committed to helping as many people as possible, for as long as it takes.
Veronica Carter, Public News Service - MN