New England Immigrant Advocates: What's the Rush on Sessions Vote?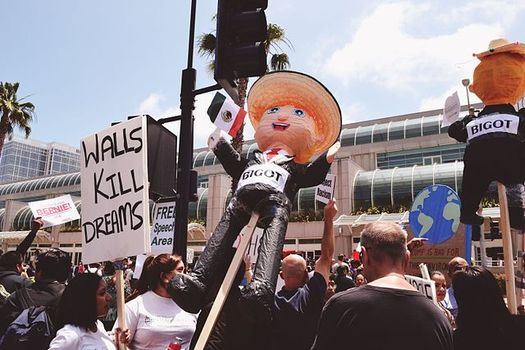 President Trump's executive orders on immigration continue to spark protests and local advocates say the U.S. Senate should delay confirming his nominee for attorney general. (Love Trumps Hate/Flckr)
January 31, 2017
AUGUSTA, Maine – The Senate Judiciary Committee is expected to vote Tuesday on Senator Jeff Sessions' nomination to serve as U.S. attorney general. While his nomination has drawn criticism and concern from the start, civil-rights groups argue there are additional reasons why a vote should be delayed. The last hearing on Sessions was held on January 10th, long before President Trump's controversial executive orders on immigration.

Eva Castillo, executive director of the New Hampshire Project on Immigrants and Refugees says all those protesters who continue to flood the nation's airports are a sign that this nominee and Trump's immigration policies need more scrutiny.

"This is just something that's being imposed against immigrants, and I would like to see if the attorney general thinks that this would be a legal thing, from the constitutional point of view," she said.

On Monday, 189 national advocacy groups called for the committee vote on Sessions' nomination to be delayed, given the lack of information on Sessions' positions.

Scott Simpson, the spokesman for the Leadership Council on Civil and Human Rights, says knowing where Sessions stands on issues that impact the civil rights of groups is key to understanding his qualifications for the job.

"The attorney general is the people's lawyer, not the president's lawyer," he said. "Sen. Sessions, if confirmed, will be the attorney general, and he will be in charge of enforcing many parts of these laws, and if the Senate doesn't know how he plans to go about doing those things, it's a dereliction of duty."

In his first hearing, Sessions testified, "I have no belief and do not support the idea that Muslims as a religious group should be denied admission to the United States."

The groups calling for a delay of the vote want senators to ask him how he would handle Trump's recent announcements.