Arkansas Lawmakers Seek to Freeze Medicaid Enrollments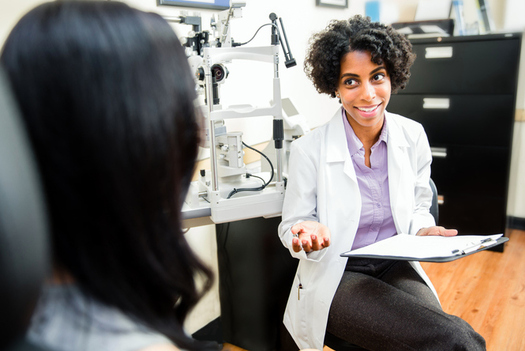 Thousands of Arkansas residents could lose out on Medicaid coverage if state lawmakers approve a freeze on new enrollments. (AMRImage/iStockphoto)
March 6, 2017
LITTLE ROCK, Ark. – With an estimated 330,000 people enrolled in Arkansas's expanded Medicaid program, state lawmakers are now taking steps to freeze enrollment.

The state adopted a plan that uses Medicaid funds to buy health care from the insurance marketplace for those eligible, and the number of people who signed up has far exceeded expectations.

Marquita Little, health policy director for Arkansas Advocates for Children and Families, says a lot of people could be negatively affected if lawmakers lock the program down too soon.

"The current programs that are available because of the Affordable Care Act definitely will be different in the future," she states. "Because we don't know what those changes will be, it's very premature for the state to move forward with any type of state legislation that caps enrollment in any way."

The Arkansas House passed a bill on Friday to freeze Medicaid enrollments as of July 1, and the Senate takes it up this week.

Gov. Asa Hutchinson opposes the freeze, and in any case, state officials must get federal clearance to cap enrollments.

Arkansas originally aimed for the program to have about 250,000 participants.

And so far, despite weeks of negotiations, there's no clear plan on the table in Washington.

Little says it's a tense time for Arkansans who can't otherwise afford health insurance.

"In Arkansas, because we chose to expand Medicaid, because we have increased the number of adults who now have coverage, because we've also increased the number of kids, we have a whole lot to lose," she points out. "A U-turn on that progress would be a pretty significant fall for our state."

Under what is also known as Obamacare, the federal government pays most of the Medicaid costs for states that opted to expand. But many believe Congress could decide to use block grants to fund Medicaid, which Little says would likely mean much less money, and major program changes.

"We would hope for changes at the federal level that don't put states like Arkansas on the hook for a great majority of the cost," she stresses.

Little says Arkansas' Medicaid program has been one of the most successful among the 32 states that expanded Medicaid under the Affordable Care Act.


Mark Richardson, Public News Service - AR