MN Women Rally at Capitol for Equal Rights Bills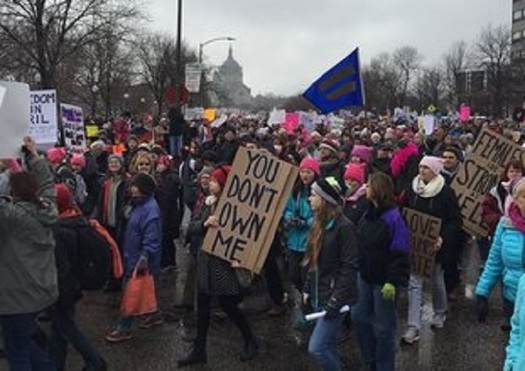 Women's groups rally and march again today, as part of International Women's Day. (ERA Minnesota)
March 8, 2017
MINNEAPOLIS – Lawmakers in Minnesota are debating legislation to give equal protection to residents regardless of gender, and they'll be greeted by hundreds of women urging them to vote 'yes' at the State Capitol today.

On this International Women's Day, women across the state and globe are skipping work, wearing red and attending marches and rallies. They're calling for gender equality, and to bring attention to the social, economic and cultural successes of women.

Betty Folliard, president of ERA Minnesota, a group that supports passage of a national Equal Rights Amendment and specific language about equality in the Minnesota Constitution, says it's another chance for women to make their voices heard.

"To say to our legislative leaders in the Minnesota House and the Minnesota Senate that women's rights are human rights, women's rights are equal rights, and we're going to 'keep calm and demand equality,'" she said.

Legislation in both the House and Senate reads, "equality under the law shall not be abridged or denied on account of gender." If the bills pass both houses, the change would be put on the ballot next year with a start date of January 1st, 2019.

Folliard says women had been battling for equality for 94 years when the 19th Amendment was passed. She notes they can fight and die for the U.S. but still aren't guaranteed equal rights.

"An Equal Rights Amendment will set forth the principle of gender equality and offer women and men a more effective avenue of legal recourse against discrimination on the basis of sex," she explained.

Other marches and rallies for International Women's Day are being held this evening, including one at Mayday Plaza in Minneapolis, and another in Minnesota Power Park in Duluth.