Pressure Builds on AZ Congressional Delegation Over Health Care Vote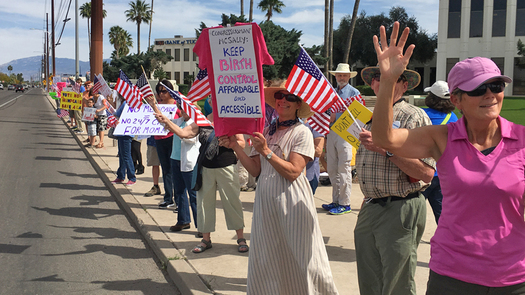 Voters rallied outside Rep. Martha McSally's office, urging the Tucson Democrat to vote against the American Health Care Act. (Dennis Newman)
March 16, 2017
TUCSON, Ariz. – On a blistering afternoon, more than 100 voters took to the sidewalks outside the office of Rep. Martha McSally, urging her to vote no on the GOP health care plan.

The Southern Arizona Republican says she's still undecided.

One of the voters calling on McSally to vote against the bill is Amber Pierson. She's a self-employed artist, worried about getting health insurance for herself and her 17-year-old son, who is recovering from liver cancer.

"Definitely don't pass this bill, because this bill is just going to cut off people like me," she states. "I don't think Obamacare should be repealed. It should be fixed."

House Republicans have tried to steer the debate away from how many people may lose coverage to how much money the GOP proposal will save.

The Congressional Budget Office says the bill will reduce federal spending by $337 billion over 10 years, while also cutting taxes for wealthy Americans and health insurance and drug companies.

Arizona is one of 11 states where people are expected to pay substantially more for their health coverage under the GOP plan.

The Center on Budget and Policy Priorities says the average Arizonan will see his or her premiums continue to rise, while tax credits used to help pay for them would fall by $3,000 a year.

Melva Rivas, who has a landscaping company, says the Republican bill would be hard on small business owners like her.

"It would ruin us because, I don't know how much we're going to pay for insurance," she states. "People over 50, I'm 54 and so, they're saying it's going to go up."

So far, only Rep. David Schweikert has come out in support of the health care plan. The rest are uncommitted.

Fellow Republicans Andy Biggs and Paul Gosar are critical of the bill for being too much like Obamacare.

Three of the four Democrats have said they will oppose it.



Dennis Newman, Public News Service - AZ