School Grant Helps Refugee Families Integrate in Washington State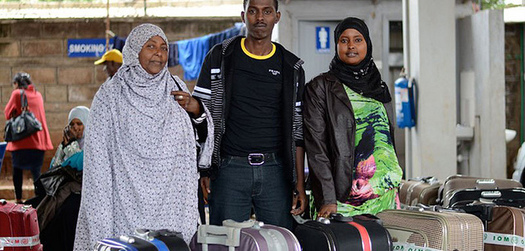 A grant to schools helps refugees resettle in the United States. (CDC Global/Flickr)
March 20, 2017
SEATTLE – A grant program is helping refugee students travel the long emotional distance from their homes to integrate into schools and their communities in the United States.

The Office of Refugee Resettlement distributes Refugee School Impact Grants to 38 states, including Washington, and helps students who recently have arrived in the country get on their feet.

In the Evergreen State, the grant is administered by School's Out Washington. The organization has many partners, including Lutheran Community Services Northwest, which helps schools prepare for the mental health aspects of the refugee experience.

Beth Farmer, director of refugee and asylum services for Lutheran Community Services Northwest, says many families come here because of the nation's educational system.

"One of the big reasons that we see refugees' families come to the United States for resettlement is because they are so deeply committed to their children having an education," she stresses.

This school year, grant recipients included 12 community-based organizations, which provide both in-school and afterschool programs for resettled families, in 10 school districts across the state.

Farmer says refugees face unique challenges once they come to this country. Many have escaped violence and suffer from post-traumatic stress disorder. Youths often are years behind in their schooling.

Farmer says school staffs have to be extremely patient with students, who may not speak the language or feel like they fit in. She says it's important for students to have activities to participate in, such as sports or artistic endeavors, while they catch up in other aspects of their lives.

"Draw or paint or sing," she says. "Trying to really promote areas that allow people's competence and sense of self-efficacy to shine through is really critical."

Farmer says the recent travel bans ordered by the Trump administration, both of which have been struck down by federal judges, have added to resettled families' stress levels. Many have family members in their home countries for whom they are waiting to arrive in the United States. Some fear deportation. Yet, Farmer says, it's incredibly inspiring to work with these families.

"For those of us who get to work with refugees and asylum seekers, there's just a ton of light there," she states. "People are resilient. They're moving forward with their lives. They're seeking a future. They've survived already so, so much."