In Oregon, Colorectal Cancer Screening is as Easy as Sending Mail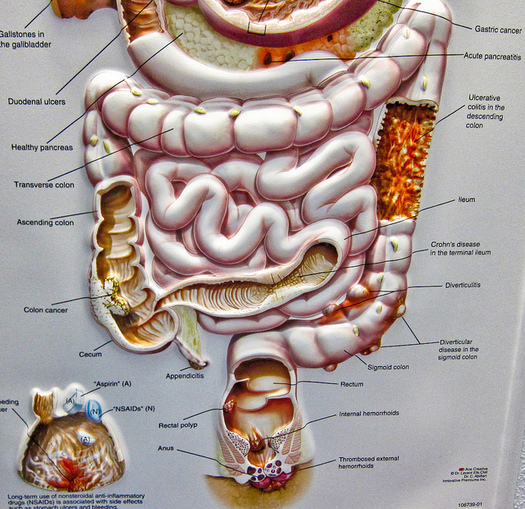 Colorectal cancer is the second and third-leading cause of cancer-related death for men and women, respectively. (Michael (a.k.a. moik) McCullough/Flickr)
March 20, 2017
PORTLAND, Ore. – New studies have found the prevalence of colorectal cancer is increasing for millennials and generation Xers.

Screening can be a highly effective tool against the disease. And during Colorectal Cancer Awareness Month in March, medical professionals are getting the word out on how to identify and prevent this highly dangerous disease.

Colonoscopies are the most effective tool for screening. In Oregon, there's also a mail-in test, known as the FIT test, that people can use to screen for the cancer from their homes.

Dr. Tanya Kapka, medical director of CareOregon, says the importance of screening can't be overstated.

"We know that if we screen for colorectal cancer, we can actually impact the outcomes," she states. "In other words, patients are more likely to get it detected earlier and they're more likely to survive a cancer or even to detect it before it becomes a cancer, such as precancerous polyps."

Colorectal cancer is the second leading cause of cancer-related deaths for men and the third leading cause for women in the United States.

Kapka says CareOregon works with its partner coordinated care organizations across the state to provide FIT kits to members. She says in the first year of providing FIT kits, screening went up nearly 10 percent.

Kapka notes that despite recent findings, the rate of colorectal cancer has decreased and more than 90 percent of colorectal cancer cases are found in people 50 and older.

She says symptoms of cancer in young people include rectal bleeding, new abdominal pains, and unexplainable bowel changes.

Because of the high risk for people 50 and older, Kapka says they should use the FIT test every year and still should have regular colonoscopies.

"The reason the colonoscopy is useful is because not only can it actually find pre-cancerous polyps or other lesions, but it can also at the same time remove them, so those would represent the cancers that we are preventing years down the line," she explains.

Kapka notes African-Americans are at increased risk for colorectal cancer and many medical societies have suggested they begin screenings at an earlier age than the rest of the population. She adds that colorectal cancer screening is one of the Oregon Health Authority's 17 metrics for improving health outcomes for patients.