Trump Gets Pushback from Military on Climate Change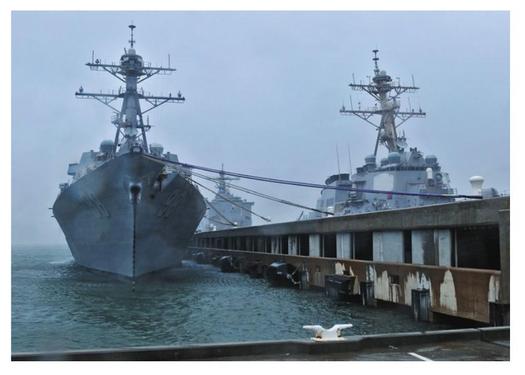 Sea-level rise linked in part to climate change is forcing the Navy to raise the docks in Norfolk. (U.S.Navy)
April 6, 2017
RICHMOND, Va. -- Many in the military community are opposing the Trump administration's plans to roll back regulations to slow climate change.

Trump has said he wants to roll back the Clean Power Plan carbon limits to help industries such as coal mining. But uniformed officers with an eye on national security often will acknowledge that climate change is a real, immediate and growing threat.

Retired Marine General Stephen Cheney, who is now CEO of the American Security Project, said his peers can see it every day.

"When you stand on the dock at Norfolk Naval Station and it is going underwater and they are no longer able to tend to the capital ships - now they're raising the level of the docks - it's a pretty graphic example," Cheney said.

West Point graduate and former army tank Captain Jon Gensler said Trump's position is more than a little frustrating. He called it politically motivated and "extremely shortsighted."

"Now we have a commander-in-chief who's in direct disagreement with the generals who he claims to support and trust," said Gensler, who is now a fellow at the Truman National Security Project. "I think you would be hard pressed to find senior leadership at the Pentagon that doesn't take the threat of climate change seriously, all the way up to and including his own Secretary of Defense."

Gensler said Defense and State departments planners believe climate change is an extremely serious threat - one that puts the lives of American troops directly at risk. He called climate change a "conflict multiplier" that contributes to instability in areas like Iraq and Syria.

"The roots of the Syrian civil war itself are tied to a decade-long drought that caused massive crop failures and pushed rural farmers into the cities, crowding the cities and breaking down the ability of the cities to provide services," Gensler said.

According to Cheney, the U.S. military now finds itself responding to climate change-driven disasters such as a recent typhoon in the Philippines that killed 8,000 people. And he said the U.S. lost more than 1,000 Marines and soldiers escorting fuel convoys in Iraq and Afghanistan - deaths that could be avoided in the future by using more renewable fuels.

More information is available at AmericanSecurityProject.org.