Tribal Groups Press U.S. Senate to Keep BLM Methane Waste Rule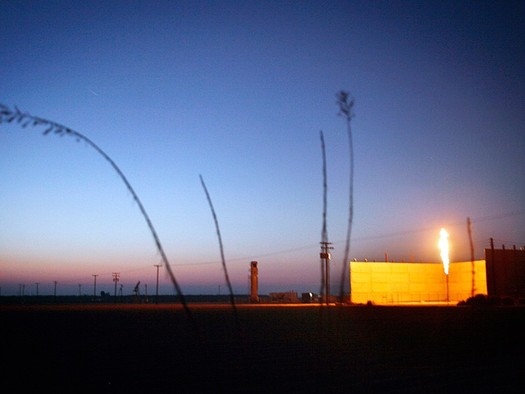 The deadline arrives Thursday for the Senate to uphold or repeal the Bureau of Land Management's Methane Waste Rule. (Chris Jordan Bloch/Earthjustice)
May 8, 2017
NAVAJO NATION -- A vote on whether to repeal the Bureau of Land Management's Methane Waste Rule could come in the U.S. Senate in the next few days, and tribal leaders are stepping up to support the rule.

The Methane Waste Rule requires oil and gas companies to install equipment to capture methane gas at wells instead of venting it or burning it off. Companies also would be required to identify and fix leaks.

Laurie Weahkee, director of the Native American Voters Alliance, said the excess gas should be brought to market, which would bring royalties to states and tribes.

"Many tribes do not have an adequate infrastructure, and so all of this money goes back to tribes," Weahkee said. "You know, we need water lines, we need our roads, our schools, all that sort of stuff."

Opponents of the rule say it is too expensive for the industry and call it government overreach.

But Navajo Nation officials and President Russell Begaye, as well as the Standing Rock Sioux Tribe and three affiliated tribes in North Dakota all have opposed the rollback of the Methane Waste Rule. They said that the methane mitigation industry already has begun to create jobs in Indian Country.

The release of methane gas into the atmosphere has been linked to climate change and to smog that worsens asthma and respiratory disease. Weahkee noted that the Four Corners area has long been plagued by air pollution coming from oil and gas facilities.

"And my understanding is that, you know, when it mixes with other chemicals, it really does cause a lot of health problems for a lot of our community members," she said.

Despite bipartisan opposition, the U.S. House already has voted to repeal the rule, which was finalized in the last days of the Obama administration. Now the Senate has until this week to reverse it under the Congressional Review Act.