Astrophysicist Creates Racial Diversity Map of U.S.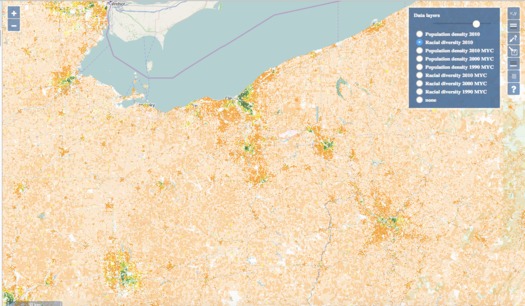 Maps are being used to plot diversity and segregation around the country. (University of Cincinnati)
May 8, 2017
PORTLAND, Ore. – A recent history of the United States' changing racial demographics might be best viewed from space.

That's the approach Tomasz Stepinski, a professor of space exploration at the University of Cincinnati, has taken.

Stepinski is an astrophysicist by trade, but had the idea that he could use the incredibly detailed maps NASA satellites collect and map the racial makeup of America's neighborhoods.

So he took data from the 1990, 2000 and 2010 censuses and overlaid them on the maps. Stepinski says the census often is hard to read and the maps make its data more accessible.

"Nobody except for specialists can easily digest and see the result, so I thought it would be a great benefit to a lot of people to just do this in a way that everybody can use it," he states.

The maps are available on the University of Cincinnati's website.

In Oregon, they show some of the legacies of the state's segregation laws from the early 20th century and some of the fault lines they created, still slowly eroding.

Stepinski hopes the maps can help improve the Census in 2020.

The maps give a vivid image of the breakup of segregation in the United States. Stepinski says white neighborhoods are becoming more diverse, and at the same time new neighborhoods of predominantly Hispanic and Asian Americans pop up.

The maps show black neighborhoods have remained relatively unchanged.

Overall, it's clear from the maps that segregation still exists.

"Segregation in the United States has been as long as there is the United States," he states. "So, in fact, what is happening is that it does change for more diverse but it's a slow change."

The maps are meant to be a sociological tool. Last month, Stepinski presented his work at the Population Association of America conference in Chicago.

Stepinski's largely computational data made him stand out among sociologists, who aren't necessarily trained to think in mathematical terms in their field. But Stepinski says academic disciplines can benefit from a pair of fresh eyes.

"Sometimes it is good to have somebody from a different discipline to make some changes to the established routine, and that's what we have done here," he states.




Eric Tegethoff, Public News Service - OR