Mother's Day Health "Garden" Planted Opposing Health Bill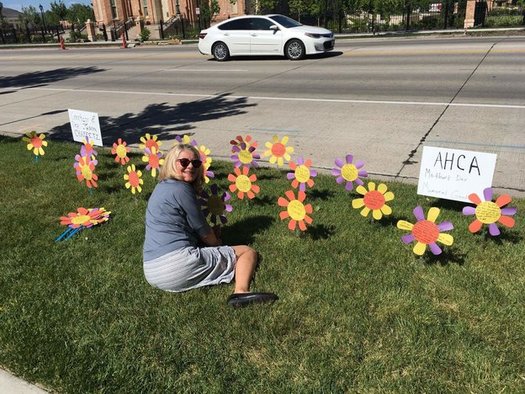 Activists planted more than 300 paper flowers outside the offices of Utah's congressional delegation yesterday, each with a testimonial from a resident concerned about the American Health Care Act. (Courtney Henderson Marden)
May 16, 2017
SALT LAKE CITY – In honor of Mother's Day, activists with the group, Utah Indivisible, concerned about the impacts of the American Health Care Act, planted more than 300 paper flowers outside the offices of Utah's congressional delegation Monday.

Kellie Henderson - one of the event's organizers - says each flower has the name of a constituent on the front, and on the back is an account of how the new health-care law making its way through Congress would affect them or their families.

"People who are afraid for their mother who is a cancer survivor, or their children who are born with heart conditions, or their brother who uses Medicaid and relies on those services and would be hurt by cuts," she explains.

The flowers were delivered to representatives in the afternoon.

Backers of the bill say people with pre-existing conditions still could get coverage in high-risk pools, and claim shifting Medicaid costs to states will allow for more innovative approaches to covering children and low-income residents.

According to a national poll released last week, just 21 percent of voters support the proposed law.

The Congressional Budget Office estimates that 24 million Americans would lose coverage under the AHCA.

Henderson attended a town-hall meeting last week with Rep. Chris Stewart, a Republican in Utah's 2nd District, and disagrees with his claim that lost coverage would only happen by choice.

"Utah families know that care that they can't afford is care that they don't get," she says. "It's just so out of touch to say that people would voluntary stop purchasing insurance. They would go without care and they wouldn't be able to afford insurance."

Henderson adds that loss of coverage could hit Utah's new families especially hard.

"We could go back to those days when only 12 percent of insurers covered maternity care," she adds. "And so even a healthy pregnancy, if you don't have that coverage, you could end up paying over $10,000 just to have a baby. That could easily wipe out someone's savings, put them into substantial debt."

The AHCA cleared the House in early May. Twenty Republicans joined all 193 Democrats in opposition. The Senate could hear the measure later this month.