Pushing Maryland to Become a Leader in Climate Change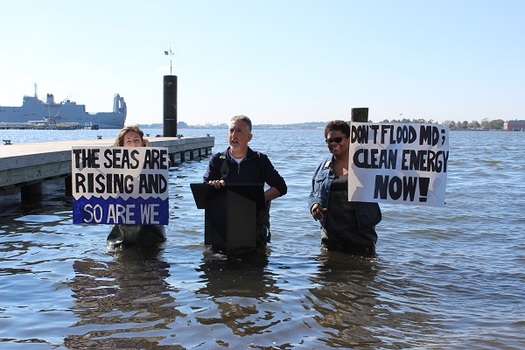 Maryland already is feeling the punch from climate change. (Maryland Climate Coalition)
June 19, 2017
ANNAPOLIS, Md. – Now that President Trump has pulled the United States out of the Paris Climate Accord, several groups have banded together to ask lawmakers in Maryland to make a firm commitment to address climate change regardless of what happens on the federal level.

They've sent an open letter to Gov. Larry Hogan and members of the General Assembly stressing the need to achieve the greenhouse-gas reductions that are needed to slow and ultimately stop global warming.

Dr. Alfred Bartlett, co-lead of the Climate Health Action Team for Chesapeake Physicians for Social Responsibility praises Hogan for saying Maryland is committed to the Paris Accord, and that the state's goals are even more ambitious than the Paris agreement, but they want him to take it a step further.

"We're urging the governor to make a more formal affirmation and commitment to working with other parties to achieve the goals that we set out for ourselves," he says.

Those goals were included in legislation passed by the Maryland General Assembly in 2015 to reduce carbon emissions by 40 percent by 2030. Bartlett says exactly how that's going to happen hasn't been determined, and he believes lawmakers should spell that out.

Bartlett also says Maryland is especially vulnerable to increasingly violent storms, sea-level rise, flooding, heat emergencies and other environmental effects of climate change. He says to fight it the state needs to end reliance on fossil fuels.

He states that right now, solar makes up only about four percent of Maryland's total energy usage.

"Only about two and a half percent of that is generated in the state, and we don't have a lot of wind being generated in the state," he explains. "Maryland imports a lot of electricity from other states and a lot of that is from fossil fuel-generated plants."

The letter asks lawmakers to set targets to reduce carbon emissions in the electric sector by at least five percent annually, to support expanding wind and solar generation and aggressively work to remove coal and other combustible fuels from the state's electric power generation mix.