Rural North Dakota Stroke Victims Get Helping Hand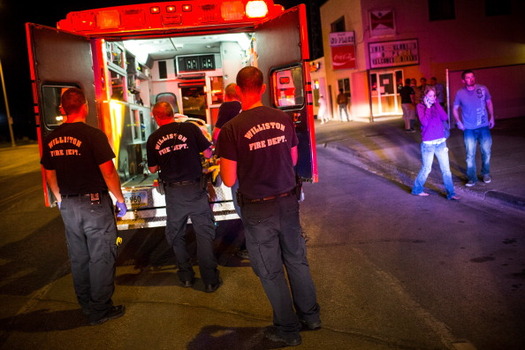 A new grant in North Dakota helps first responders coordinate with hospitals for faster care of stroke victims. (Andrew Burton/Getty Images)
June 23, 2017
BISMARCK, N.D. – A new grant will help streamline North Dakota's response system for stroke victims, especially in rural parts of the state.

The Leona M. and Harry B. Helmsley Charitable Trust is teaming up with the American Heart Association to fund the Association's Mission: Lifeline Stroke initiative with $4.3 million over the next three years. The American Heart Association is contributing $1.3 million as well.

Shila Thorson, stroke and cardiac system coordinator at the North Dakota Department of Health, says the grant will help connect its stroke-response teams for faster treatment.

"Their goal in this is to bring together hospitals, EMS, first responders, communications, and government to work on that system and really help treat patients from the time of stroke onset through their rehab and recovery process," she explains.

Thorson says more coordination between the state's stroke-response team has enhanced treatment in recent years.

The grant also will help fund a public education campaign focused on recognition of stroke signs and symptoms. Thorson says timing is key for care, especially in rural areas far from hospitals. She says it's important to identify the signs of a stroke quickly and call for care as soon as possible.

"Once they call 911, that sets in motion that system of care with EMS on board knowing what symptoms they have," she says. "They call stroke alerts to the hospital, and the hospital's prepared for that patient and the process of getting them the care as fast as possible can begin."

Thorson says everyone should remember the acronym FAST, used to recognize the most common warning signs of stroke. "F" stands for face drooping, "A" for arm weakness, "S" for speech difficulty, and "T" for 'time to call 911' if a person is showing any of these symptoms.