Report: A Clean Columbia River is Worth More to Northwest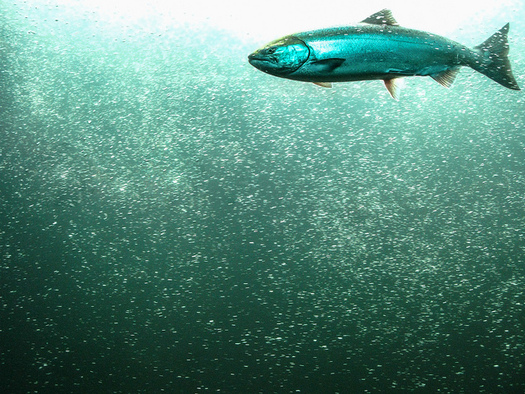 A new report finds cleaning the Columbia River up for fish would have significant economic value for the region. (Thomas/Flickr)
July 10, 2017
PORTLAND, Ore. -- A cleaner Columbia River could unlock even more economic potential for the Northwest, according to a new report.

In Earth Economics' analysis of the Columbia River Basin, its natural value totals nearly $200 billion dollars annually in food, water, recreation, flood risk reduction and more. The report also found if the basin's ecosystem were just 10 percent healthier, $19 billion dollars of value would be added each year.

Greg Haller, conservation director with Pacific Rivers, a nonprofit group that contributed to the report, said investing in salmon recovery and other changes to make the river flow more naturally would come at little expense to the river's other operations.

"We can have all those other values - we can still have hydropower, we can still have irrigation," Haller said. "What we'll get if we improve the health of the river, not only will that produce ecological benefits, but those benefits will translate into real dollar benefits."

Haller said one purpose of this report is to push back against sentiment in the region that salmon recovery is too costly, by proving that there's value in a clean river that recoups losses to hydropower in other areas - such as a healthier fishing industry.

He said he hopes the report influences Columbia River Treaty negotiations in 2024 between the U.S. and Canada on developing and operating dams in the region.

"Right now, the treaty's purposes are only for hydropower and flood-risk management," he explained. "What was left out in the initial treaty was the needs of fish and the river's ecosystem."

Recognizing the environment in the treaty is also important to Native tribes. Jim Heffernan is a policy analyst with the Columbia River Inter-Tribal Fish Commission. He said Native Americans weren't considered when the treaty was negotiated in 1964, even though the dams affect the tribes in many ways.

"The impact of losing those fisheries has actually had dramatic impacts on the health of the tribes and First Nations - I mean their physical health - because of the rather massive change in diets caused by losing access to the salmon, and sturgeon and lamprey resources, that they had historically had," Heffernan said.

The analysis found hydropower would take a $69 million hit out of its current $3 billion a year operation in the basin if dams and reservoirs were changed to mimic spring and early-summer river flows, which are healthier for fish.

Eric Tegethoff, Public News Service - OR