"Disturbing" Number of Wisconsin Veterans Homeless, Hungry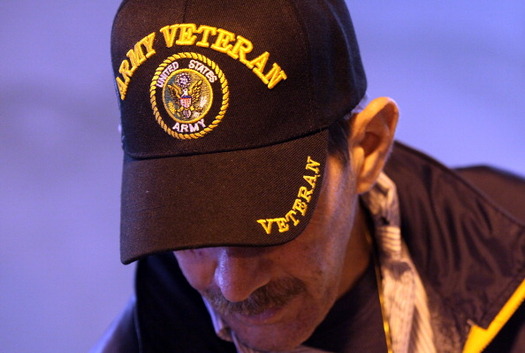 A national survey says 14 percent of American households that rely on food banks include a veteran. In Wisconsin, it's 19 percent. (Justin Sullivan/Getty Images)
August 7, 2017
MADISON, Wis. – The most recent Census Bureau estimates for Wisconsin say of more than 6,000 homeless people, at least 500 are veterans.

Often, returning veterans face big challenges in acclimating to civilian life, and finding jobs and places to live. Many suffer from post-traumatic stress disorder and may have physical challenges as well.

Dan Stein, executive director of Second Harvest Foodbank of Southern Wisconsin, calls the figures on veterans and hunger "disturbing."

"A national study done by Feeding America called 'Hunger in America' that all the 200 food banks or so contributed, working in their respective areas – it showed that 14 percent of all the families we serve had a veteran in that household," Stein points out.

In Wisconsin, that figure jumps to 19 percent, including 4 percent of food bank clients who are currently serving in the military.

Stein says hunger can afflict anyone, and has a significant impact on health, as people struggling to make ends meet often rely on cheap and unhealthy food.

Stein tells a story from May, when one of his organization's mobile food pantries was set up in Sparta, a town near a high concentration of military facilities and veterans.

The pantry manager noticed a man in line wearing a faded military uniform. She asked how many people were in his household and he said, "Eleven."

"But then she said, 'How many are under 18?'" Stein relates. "And he said, 'None.' And she was quite surprised, so she said, 'Eleven adults?'

"And he explained that he and the others with him were homeless vets and were living at the home of a retired military man who, finding out their plight, opened his house to them."

Stein lists ways people can help fight hunger: One is donating food or money, and another is volunteering time at a food pantry.

"Or just lending their voice," he adds. "One of the problems is, so many people have no idea of the size and scope of the problem of hunger – in Wisconsin, or in the United States. And the more people are aware, great things can happen – changes can take place."

Stein says most people his food bank serves live in a household where someone is working at least 30 hours a week.