Public Comment Period on Methane Pollution Protections Ends Wednesday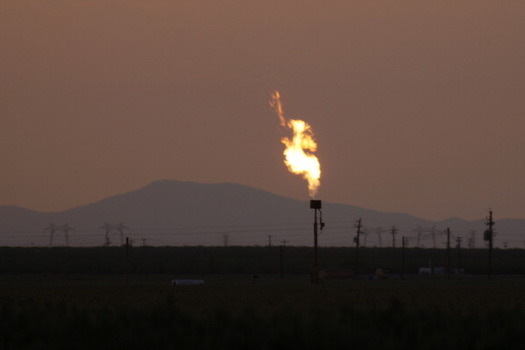 Since Colorado put limits on methane waste at oil and gas sites in 2014, the state's energy production has increased. (Getty Images)
August 8, 2017
LAFAYETTE, Co. – The Trump administration's attempts to roll back clean-air protections were dealt a temporary setback last week in court, but the Environmental Protection Agency is forging ahead with plans to suspend a federal rule that limits methane pollution at new oil and gas sites for two years.

Christine Berg, the mayor of Lafayette, says more than three million Coloradans live in areas where ozone pollution exceeds clean air standards, and now is not the time to allow industry to release even more harmful toxins.

"We know that this particular rule is in favor of our children's health, and delaying it by a month, let alone two years, will have an egregious impact on the health and safety of our children," she says.

Berg notes smog-forming pollution takes the biggest toll on children, whose lungs still are developing.

EPA director Scott Pruitt claims the rule is a burden on the oil and gas industry and costs jobs. Last week, a D.C. appeals court told the agency it had to enforce the rule and said delays were adding substantial levels of hazardous air pollutants such as benzene and formaldehyde into the air of communities near wells.

The federal rule is similar to protections Colorado put in place in 2014, and Berg notes since then Colorado's oil and gas production has increased, methane mitigation companies have added jobs, and the state's economy has performed better than the national average. But she says without a national standard, hazardous waste from other states will continue to cross borders.

"At the end of the day, you're capturing more methane and that's more product that the oil and gas companies can sell," she adds. "What we've seen in Colorado is really how American innovation is spurred and there actually is an increase in jobs."

Berg recently testified in Washington against the EPA's proposal and has been urging concerned parents to make their voices heard before the public comment period ends this Wednesday.
Eric Galatas, Public News Service - CO