Report: EPA Cuts Would Compromise MT Air, Water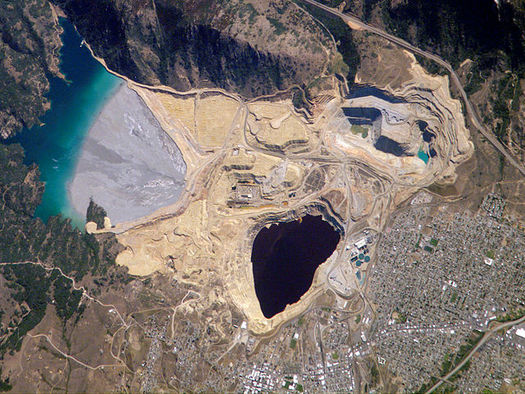 The Berkeley Pit near Butte, Mont., has become one of the largest EPA Superfund sites in the country. (NASA/Wikimedia Commons)
By Eric Tegethoff/Mary Kuhlman, Public News Service - MT - Producer, Contact
September 5, 2017
HELENA, Mont. – Montana's air and water quality would diminish if President Donald Trump's proposed 30 percent cut to the Environmental Protection Agency's budget were approved, according to a new report from the Environmental Defense Fund.

The report says over the past five years, Montana has received more than $194 million in grants from the EPA to protect the state's environment.

Melissa Nootz, a field consultant with the group Moms Clean Air Force, says she used to live in a Montana Superfund site with pollution in need of long-term cleanup, and knows what industrial waste does to communities.

"I don't think we need to be weakening standards that will result in more pollution, because I know what that looks like and I've seen how difficult and complicated the process is to clean things up," she states. "And I just think that's moving in the wrong direction. It's not the legacy that I want to leave behind."

There are 17 Superfund sites in Montana. Trump's budget proposes to zero out funding for a program to address leaking underground chemical storage tanks, one that reduces poisonous radon gas in homes and schools, and another to prevent polluted runoff from parking lots, roads and fertilizer use.

EPA chief Scott Pruitt argues that many environmental regulations are too onerous for the business community.

Bill Becker, an environmental consultant and former head of the National Association of Clean Air Agencies, says any cuts to the EPA budget will reverse years of progress made in public health, quality of life and the tourism-based outdoor economy.

"It is an extraordinarily small price to pay to equip state and local officials with the necessary financial and regulatory tools to clean up the environment, when you fully understand the impacts that could occur if you don't provide these resources," he states.

Outdoor recreation in Montana generates $1.5 billion in wages and salaries and 64,000 jobs, according to the Outdoor Industry Association.

Congress is set to take up a series of 12 appropriations bills in the next few weeks.