Manchester Prayer Vigil as Local Immigrants Report to ICE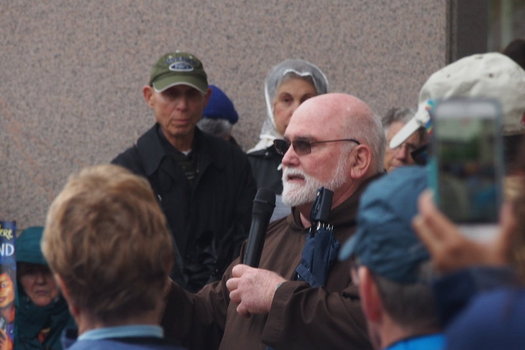 Rev. Joseph Gurdak is among those holding a Manchester prayer vigil today to call for the end to deportations. (American Friends Service Committee)
September 5, 2017
MANCHESTER, N.H. – As President Donald Trump ramps up his crackdown on undocumented immigrants, a prayer vigil is planned this Tuesday at the Federal Building in Manchester to call for an end to deportations. The vigil is timed to coincide with a reporting deadline for dozens of immigrants who have run afoul of immigration authorities and must now report to ICE agents.

The Reverend Joe Gurdak of the Saint Anne/Saint Augustin Parish in Manchester says they'll pray for an end to deportations as they show support for those who face that possibility today.

"As they go to report to ICE, that they're not alone, that there are people who are fighting for a change in the laws, so that they can stay here; and we just want to say, 'We're here with you,'" he said.

President Trump and U.S. Attorney General Jeff Sessions have both taken a "get tough" stance on people who are in the country illegally. Trump has signaled he will double down on that policy by ending the Deferred Action for Childhood Arrivals (DACA) program with a six-month grace period.

According to Gurdak, many members of his congregation have been picked up by ICE Agents, including a young man he visited in detention on Friday, who'd been stopped for a traffic violation. Gurdak thinks there's no question that enforcement has been stepped up under President Trump.

"I think it's has doubled from what it was," he added. "And I think more of the police, especially the state police, are becoming the agents also, of ICE."

U.S. House Speaker Paul Ryan cautioned President Trump on Friday not to end the DACA program. Gurdak sees a ray of hope there, but says he's concerned Trump will make good on his threat to deport young people.

"That's the hope, that there'll be winds of change," said Gurdak. "They gave them their information, they gave documents - and now they're going to use that to deport them? Wow, that would be absolutely horrifying."

Among those expected to report in Manchester today are more than 20 members of the state's Indonesian immigrant community, whose members fled from religious persecution but have been denied asylum in the U.S.